July 27, 2009
0

found this helpful
Best Answer
Yes, When our family moved into a home the hardwood was ruined by a dog. The spots were black. We tried sanding, but the stain went to deep to remove! The longer you wait to potty train, the more the dog will be set in her/his ways. They'll usually keep going back to that same spot(s). Can you buy a shaded kennel for outdoors for one month? I've seen them for under $200 including the canopy.
February 14, 2018
0

found this helpful
If you saturate a towel with hydrogen peroxide and lay it over the black stain, then cover it with a plastic garbage bag, in 24 hours the stain will have lightened or may even disappear depending on how dark it is. Then let it dry and if it needs a little poly coat, brush some on and let it dry.
If you use water based, use a water based poly. If oil based, use oil poly. You may need a little 0000 steel wool once dry to take down the shine to match rest of the floor. I've done this before. I've also picked up my carpets because it seems like the dogs love to pee on carpet/rugs over the floor but not directly on the floor.
July 29, 2009
1

found this helpful
Best Answer
Two months old isn't too young to get right into potty training--in fact, it's going to be harder to let the puppy do whatever it wants around the house for a month and then try to unlearn bad habits.
At two months ( and even at three!) these little guys have tiny bladders; unless you're on it, you're going to have puddles.
A good rule of thumb is that the dog will usually urinate/defecate within about fifteen minutes of drinking/eating.
Just as if there was an infant in the house that needed feedings every three hours, your puppy will probably need a potty run just as often--even in the middle of the night--for the next four to six weeks.
After that, the dog's usually gotten the hang of it and has grown--the bigger the puppy gets, the longer it can hold its urine and feces.
If it's going to be at home alone for any period of time over three hours, consider buying a crate. They usually won't mess where they sleep--it makes training so much easier.
July 29, 2009
2

found this helpful
Best Answer
I just wanted to thank everyone for their imput on urine staining hardwood floors. I've had my puppy since the 27th. Today is the 29th and I've already succeeded in her pottying on these puppy pads. She is doing pretty good considering it has only been 3 days. I'm going to eventually put one in a cat litter box without the cat liter and hopefully she will by then know that is where she is to go.
I purchased a bell from this company where you can use their paw to pat the bell, then take them outside so they can associate and eventually do it without having to coax them. She is only 1 1/2 pounds and so little right now i just want to keep training her with the pads and then maybe if she gets big enough use the bell. She will only get to be 4 pounds. Anyway, thanks so much for all your responses.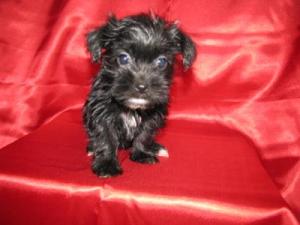 August 5, 2009
3

found this helpful
Best Answer
Every time that your dog goes into the yard and does the deed, immediately hand her/him a treat. This only takes four or five times. I broke two in a week with this.
You can pick up underpads in the incontinence section of discount stores and place them by the door if you don't get there in time, and in a crate so you don't have to wash as much. They have them in pet stores, but the are twice the price.
July 27, 2009
0

found this helpful
Dog urine does stain hardwood if it isn't sealed good. If the puppy uses the same spot over and over it can turn the hardwood black. It is best to get it up quickly, and use a good hardwood cleaner.
August 22, 2017
1

found this helpful
My husband and I have found through experience, unfortunately, that the only way we have been able to save our wood floors from our dog when she has had accidents on the wood floors is to immediately put baking powder down on the urine. You will probably have to repeat this a few rimes but it has saved our floors. Our house is very old so in the middle of the floor is an unfinished wood (a big square in center of the floor) and then a finished wood floor around that, so it was a challenge to figure out the best way to treat the floor without ruining.
Good luck! Our dog was abused and all skin & bones when she came into our lives back in 2013. My husband was on a job and had left the van side doors open and while he was doing the job she jumped into his van. He brought her home and all you could see is her ribs and how afraid she was, now it's 2017 and she is the QUEEN of our house! She weighs more than I do now.....
July 29, 2009
0

found this helpful
Could you crate your dog until housebroken? It is the easiest (IMO) way to housetrain a dog. Put in the cage & then take him outside every 90 minutes or more. If you feed him or play with him, take him out too. Usually the dog won't wet or mess in the cage. Floors are saved!
July 29, 2009
0

found this helpful
Puppies are like babies. You need to pay a lot of attention to them. You shouldn't wait a month to potty train. I crate trained mine. during the day when i was around i just payed very close attention to him and at night i would crate him. I would have to get up once or twice a night and let him out to potty but I never had an accident in the house. He is over two years old now and still sleeps in a crate by my bed. That is his room. He can go there anytime to get away from others.
July 29, 2009
0

found this helpful
2 months old is a perfect age to train a puppy. crate her for few hours at a time. pick her up and carry her outside to relieve herself. when she does, praise her. check out crate training on the internet. It works! Good luck
July 29, 2009
1

found this helpful
I agree the all the others, crate training is the way to go. It is twice as difficult to unlearn bad habits regarding housebreaking. Hardwood, carpet etc is never the same after an accident. Crate training makes a dog feel secure as well. the cost of a crate will be offset by not having to refinish your hardwood or replace carpet. Good Luck