December 10, 2006
0

found this helpful
have you tried using a round leather collar? These are designed for dogs that have a lot of hair (so a flat collar doesn't rub the hair off) but it just might work for your dog.
By Me (Guest Post)
December 12, 2006
0

found this helpful
Possibly a cloth collar? Is it to tight? You should be able to slip, comfortably, 2 side by side fingers under the collar. But not so loose they can get it off their heads.
By Brenda (Guest Post)
December 12, 2006
0

found this helpful
Hello,
He might be allergic to the material, keep changing until you find one that doesn't irritate him. Could it be to tight? You should be able to get 2 fingers in between collar & Dog.
Try making an all natural cotton cover for the collar or fleece, this could help if he's chaffing. You might need to find a good harness to use as a substitute until you find something that works.
I have 3 mini Dachshunds & they're hard to fit a collar on, it must be strong because they are strong & small in diameter or it will rub their hair off.
Needless to say I'm always buying collars, they really do need replaced several times a year because they can get rough after a while, underneath, next to their necks & start pulling their hair out. Which will eventually rub them raw.
I've seen collar cover's for sale on ebay.
There is also anti-itch sprays that can also help alleviate his discomfort & I use oatmeal shampoo because Doxies have tender skin.
I hope this helps!
Brenda, Rosey, Lilly & Buccaneer!!!!!!
P.S. What is the diameter of the collar & material?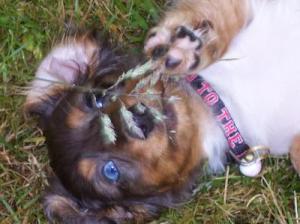 By woofey (Guest Post)
December 12, 2006
0

found this helpful
Keep the collar off in the house. Use a Gentle Leader on a leash. I do not believe in tying or chaining a dog out. That may be part of the problem. Hope this helps.
December 14, 2006
0

found this helpful
Try a chest harness these are great because when they pull they do not choke themselves
May 9, 2008
0

found this helpful
I am having the almost the same problem with my boxer puppy, Zeus he goes crazy with a collar on or a harness. He is throwing himself into the sliding glass door or trees outside he refused to eat go potty or anything when he has the collar on.
I am just stumped with what to do. If I were you I would try a light weight cloth collar on your dog petsmart has alot to choose from believe me I have tried everything on mine.
June 19, 2009
0

found this helpful
Your best bet is to keep the collar off the dog when he's at home. Also, keep trying different materials. He's probably allergic to the material in the collar.
Zeusmom, you too. Take the collar off when he's at home, and try different materials. If you can't find one or they get too pricey (I know they can get expensive) then try covering the collars with material. You could try stitching 2 or more bandanas together and making a tube-like cover for the collar. Or cut up an old tee shirt and do the same thing.
But they need the break from a collar when they are at home to give their necks a chance to heal. And if they are already chafed, put some anit-itch, antibiotic on it. Wal Mart carries generics on both that work really good. These will help the dog's suffering with the itch and also help promote healing.
June 21, 2010
0

found this helpful
We have three greyhounds. They wear a collar that some refer to as a greyhound collar. It is adjustable and is comprised of two loops of nylon fabric so that it can hang loose but will tighten up when they pull forward on a leash.
Dressler's Supplies in Kansas City, KS has them online if you can't find them locally.
Also, if there is a rash you might consider giving your dog a bath using pine tar soap. It has a great smell and an antibacterial nature. It cleared up some skin problems one of our dogs had when we brought him home from the breeder.
June 21, 2010
0

found this helpful
Allergy? Buy nothing from China. History of products from China is not good. Please do not tie out your dog. If your dog is a family member, he/she belongs with you in the house when possible.
June 23, 2010
0

found this helpful
He looks like he's tied up on a heavy chain, and he might be straining on the chain and causing the collar to damage his skin. Why do you keep him chained up?
Why not keep him in the house? Do you realize that chaining a dog up makes them mean and dangerous? Maybe you can work with him to train him not to leave the yard (if he's neutered). A non neutered male will always run off.
November 22, 2012
0

found this helpful
The only time your Dog should wear a collar of any description is when he is being walked with his owner on the other end of the lead.