There is a host of pricey doodads and thingamajigs on the market for every type of garden task you can think of - including composting. Although many of these tools are designed to make the job faster and easier, a budget-friendly alternative usually exists that can accomplish the same task for a lot less money.
Here's a rundown of six handy composting tools - what they do, why they are helpful, and the cost-saving alternatives.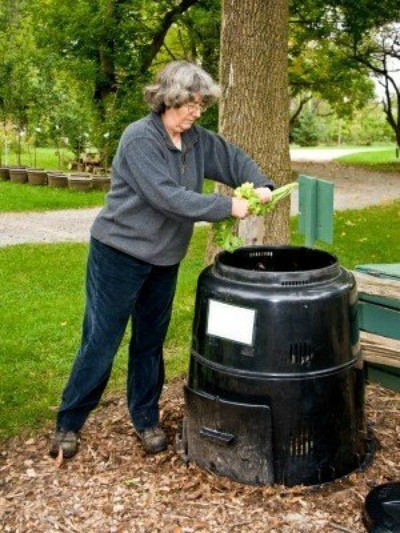 Bio Activators (Compost Starters)
What it is: A blend of natural ingredients (a.k.a. decay-causing microorganisms) specially formulated and designed to accelerate the composting process and enhance the quality of your finished compost.
Why it's helpful: The manufacturers of these products claim they speed up the composting process and improve the quality of the finished product by injecting your pile with a balance of nutrients and an army of hungry microorganisms.
Budget alternative: To accomplish the same thing, add relatively even amounts of nitrogen (greens) and carbon (browns), plus a handful or two of garden soil each time you add something to the pile. Keep your compost moist (but not wet) and aerate the pile at least once every two weeks. You'll have black gold before you know it!
Compost Pile Thermometer
What it is: A thermometer consisting of a face dial and a long steel probe (about 20 inches in length) that is designed to be inserted into your compost pile to accurately monitor temperatures from 0 to 220 degrees F.
What it's helpful: It lets you know when your pile is cooking and when it is cooling down and ready to turn. Also, when the temperatures reach between 140 to 160 degrees F, you can be confident that many weed seeds, diseases, and insect eggs are getting cooked.
Budget alternative: Another easy way to determine the temperature of your pile is with a simple metal pole. Drive one end of the pole into the pile, wait a 10 minutes, and pull it out again. If your pile is "hot" the pole should fee slightly warm to the touch. You won't get an accurate temperature reading this way, but it's still a great low-tech way to monitor the temperature inside your pile.
Moisture Meter
What it is: Similar to a compost thermometer, a compost moisture meter consists of a meter attached to a long probe. When inserted into your compost pile, lets you know the relative moisture content inside the pile.
Why it's helpful: One of the keys to successful composting is maintaining the proper moisture level inside the pile. If your compost pile is too wet, air is not able to get to the pile, which makes the process of breaking down materials take longer. If your compost pile is too dry, beneficial bacteria cannot maintain their activities, and again the composting process is slowed.
A moisture meter can tell you the moisture content of your pile, so you can either add water to it, or let it dry out a bit. The nice thing about these meters is that they can also be used throughout the garden to check soil moisture levels.
Budget alternative: Use a coffee can or small container to scoop out a sample of compost from the inside of the pile. Ideally, it should feel about as moist as a wrung out sponge. If it feels dry, use a watering can to sprinkle some water over the top of the pile.
A good way to regularly introduce moisture into the pile is to drive a metal stake down through the center to direct rainfall into the pile. You can also create a shallow depression on the top to catch falling rain. If your compost sample feels too wet, cover the top of the pile with a layer of straw (to shed rain) or throw a tarp over it for awhile and continue to turn the compost regularly to let in more air.
Aerator Tool
What it is: A long, galvanized steel tube, usually consisting of a handle on one end and two collapsible paddles or "wings" on the other end. The tool is designed to mix and turn the contents of the pile to introduce air.
Why it's helpful: This tool is designed to make it easy to completely aerate and mix your compost in just a few minutes, eliminating the strain on your back caused by scooping, lifting, and turning.
Budget alternative: Use multiple piles so that no single pile gets too large (you never have to turn a pile). Set up a rotation, fill one, start another, and so one. By the time the last one is filled, the first one will be finished. Keep each pile moist and poke something into them every once in a while to let in some air.
Composting Fork
What it is: This long-handled tool is sort of a cross between a shovel and a fork. You get the scooping action of a shovel with the aerating power of a pitchfork.
Why it's helpful: When you need to dig into a pile of loose material to move it or spread it (e.g. compost, mulch, leaves, straw, or other bulky material) a composting fork slides in easily and picks up a full load.
Budget alternative: Almost any type of garden fork can be labeled and sold as a "composting fork". If you have the cash it can be a handy tool, but you certainly don't need a "specialized" fork for turning compost. Instead, find yourself a good quality square-tined spading fork (broad, flat tines), pitch fork (three tines), or a straw fork (6 tines) that feels good in your hands and can be used for a variety of garden duties such as lifting debris and loosening soil.
Sifter or Garden Sieve
What it is: A compost sifter or sieve is a shallow tray with metal holes on the bottom that allows you to sift your compost to remove any lumps of material that have not completely broken down.
Why it's helpful: Different organic materials decompose at different rates, which means you can end up with some large chunks of not-yet-decomposed material in your otherwise finished compost. A sifter creates fine, uniformly screened compost by separating out the large pieces, which you can then toss back into the pile.
Budget alternative: Make your own sifter using 1/4 inch window screen (or other small gauge screen) stapled or nailed to a wooden frame. Make the frame large enough so that you can position it over a wheelbarrow or 5-gallon pail while sifting.