July 16, 2010
0

found this helpful
Sheila, your hollyhocks are lovely. I would love to plant them all around our little church. How do I get them from you?
Cada2924
July 16, 2010
0

found this helpful
Sheila, I would love some hollyhock seeds, any or all colors. I live in Eagle River Alaska and the climate is similar to northern Minnesota (where I am from). My email address is tstewart@mtaonline.net I collect seeds in the fall and spread them around. I have a lot of columbine (many colors) and of course daisies. I'll send you some if you'd like some. I sent some columbine seeds to sister in Washington state and they did well, didn't grow as tall as they do up here but she's happy with them. I usually freeze them first, so they think they have wintered over.
July 16, 2010
0

found this helpful
Sheila, I too would love to be able to get some of your lovely hollyhocks. I live in zone 3, what zone are you in. Please let me know how to get the seeds from you. My email is auntie73@frontiernet.net Do you have any perennial geraniums? would you like some in trade?
July 17, 2010
0

found this helpful
Hello, I live in Florida and not sure how well these would grow but my son lives in Wisconsin so we could share. Is there a message system with this site?
How do we pay for the postage?
July 17, 2010
0

found this helpful
Hi everyone, you can just email me at sheilajean@charter.net then I will get back too you all, first class mail I will ship then you have to tell me what colors you like. I will take notes. Thanks have a nice day sheila. To keep them nice and bloom I spray dawn dish soap in a water bottle kills the bugs wont hurt flowers. Good luck.
July 17, 2010
0

found this helpful
Dark maroon to black.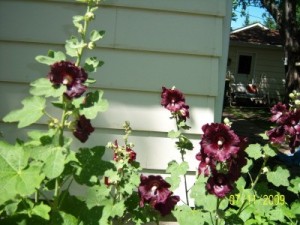 July 18, 2010
0

found this helpful
Beautiful flowers! I would love to have some seeds to plant in my yard. My e-mail address is: cas3333_2000@yahoo.com. Please let me know how to reimburse you for postage. Thank you.
Cathy
July 18, 2010
0

found this helpful
Add me to the list! I live in Juneau, AK and I believe they would do alright here as we have more temporate climate than further north. Please advise how to obtain these seeds by sending a message via email to either avaughan.juneauak@gmail.com or alice@been-there.com. If they make it in Wisconsin, I know they would make it here! I am interested in any and all types of flowers that would grow in a cooler climate. :-)
July 19, 2010
0

found this helpful
I have been trying to get them to grow for years with store-bought seed. So far, only have 1 white one, but would love to have the different colors. Please email directions for ordering some from you. Would love to have as many colors as possible, if you have any left! Please contact me at: cbsmedra@hotmail.com
July 20, 2010
0

found this helpful
Ms. Sheila, I'd like to obtain some of your seeds. How would I go about doing this? Thank you.
July 27, 2010
0

found this helpful
I would love to have some of the seeds, I especially liked the "red-ish" looking ones (not the burgundy). How do I get them from you?
gardenway