March 17, 2008
0

found this helpful
You can use regular acrylic paints mixed with a textile medium (any craft store will carry this)
Also a "bubble" fabric paint (in the bottle with the point) would work well for this.
I've learned everybody seems to put a red ribbon on their suitcase, so all the luggage looks the same. I use a bright neon green ribbon.
You could use bright neon paint with your stencil, or a tube of bubble neon paint and freehand your sketch.
March 18, 2008
0

found this helpful
My husband and I have put large designs on our suitcases with brightly colored duct tape. We never have a problem finding them. It also gives a moderate amount of protection from scuff marks.
March 20, 2008
0

found this helpful
Try this link www.ducktapeclub.com. Under "ductivities" they have a pattern for a duck tape luggage tag. It comes in so many colors you could make a very unique one to mark your suitcase(s).
Or maybe you could decorate your suitcase with a design made from duck tape. Its very stong and stay put, especially the industrial strength stuff. It comes in so many colors too. On the ducktape club site a guy made a hammock out of industrial strength duck tape!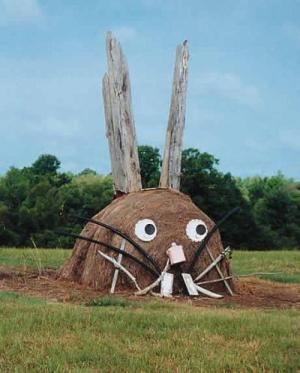 By (Guest Post)
March 20, 2008
0

found this helpful
About three years ago I used a stencil and white acrylic paint that I already had to put fish, seahorses and starfish designs on a black suitcase and on a red suitcase. I tried using colors at first but had to go over them with white as the color did not show very well. After about 3 coates of white paint, I can pick out my suitcases anywhere.
By betsy j. daniels (Guest Post)
March 21, 2008
0

found this helpful
I used that shiny 3-d paint that you write lines with and put bright colored happy faces on my black suitcase. Very easy to pick from a crowd. Also no one else would want to claim it!
September 4, 2009
0

found this helpful
Hi! Have you figured out how to stencil your suitcases? Well, I just went at it myself this week and would love to share with you what I learned. I explain it all with pictures at www.stylinspice.wordpress.com.
It's really easy to do and inexpensive. I basically used contact paper for my stencils and fabric stencil spray paint for the paint. Good luck!