Hi All,
This is my dog Miko and you heard of a cat with 9 lives I believe she also has 9 lives.
We got her when she was 6 months old we have had a lot of ups and downs. About 4 of years ago she was hit on a busy road and her bandana got stuck on the ladies licence plate and she was dragged for a block, took her to the vet, she had some road rash, and shock, but other then that she was very lucky.
Then a couple years ago we were dogsitting for my mother and father-in-law and she just loves it out there, all kinds of fields just to run run run....but that weekend I think she ran a little to far and it started to storm, I think she lost her scent back, she was gone for a long time, we went everywhere looking for her but had no luck, 3 days went by and I was crushed, searching for her everyday I thought we had lost her, then the very next day she was on there porch, very tired and sore but as good as new.
Not long after that she seemed to get sick, she was starting to take seizures and doubled in her weight and just wanted to sleep all the time and seem to be in pain.
We took her to the vet and they put her on a medication for her seizures, well they had stopped but nothing else had changed, I went on a website similar to this one and they told me to get her tested for a thyroid, so I did and Miko also had a over active thyroid which also is on medication for now, but today she is back to herself, lot's of energy, back to a good weight, and happy as can be.
I'm so grateful for sites like this, I just thought I would share my story of my amazing German Shepard/husky named Miko.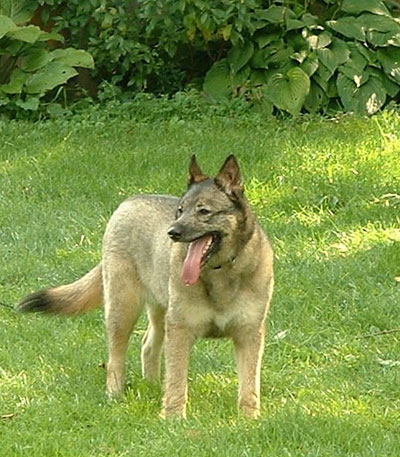 Thanks Penny from Ontario