Here is my German Shepherd/Husky mix. He is 3 months old now, and it appears the bottom half of his ears have gone up, but not the rest. I know some mixes have the ears already up due to more Husky in them, but this little guy is pretty much half and half.
I am wondering, is there anyone here (Shepherd or mix) that has a picture of the ears halfway up? I want to know that I am just not blindly hoping it is them trying to rise.

Also, we are not bringing our pup to training. Some things he picks up quickly, but he just will NOT learn to 'stay' and 'lay down.' We do it over and over, with treats, and show him how, but he is so treat-crazy he does for that instead of listening. Any tips?

Thanks!

schubunny from New Brunswick, Canada

Answers:
Ears Standing Up and Training a German Shepherd/Husky Mix
I think your dog got the Shepherd "floppy ears" gene! They look just like those of a Chow-Shepherd we had for many years. We now have a Husky-Shepherd mix whose ears stand up, but her body and tail look more like a Shepherd's. Just love him like he is 'cause it's hard to change genetics. (01/21/2008)
Ears Standing Up and Training a German Shepherd/Husky Mix
It took a long time for our Shepard's ears to stand up. For awhile she had one up and one down. It seems to me she was at least 8 months old before they stood up. We just had the one Shepard pup, so I am not an expert. (01/21/2008)

By Louise B.
Ears Standing Up and Training a German Shepherd/Husky Mix
He's so cute, I wouldn't care if his ears stood up or remained floppy! (01/22/2008)

By Beth
Ears Standing Up and Training a German Shepherd/Husky Mix
If you will feed him cottage cheese every day, it will help strengthen the cartilage in his ears and they will one day stand straight up. We have a female Shepard with papers and we were afraid hers would never stand up. Someone gave us the tip and it worked beautifully. (01/24/2008)

Ears Standing Up and Training a German Shepherd/Husky Mix
Hi. I think my pup is a shep/husky as well. The picture was taken when he was 8 weeks old. He is now 11 weeks and both his ears are fully up. They look too big for his head, so I think they are more shepherd ears. (01/25/2008)

By R Hamilton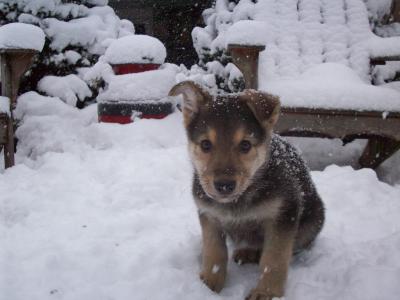 Ears Standing Up and Training a German Shepherd/Husky Mi
My puppy is a husky/German Shepard mix and his ears aren't up fully either, but from all the advice I've read it's all the same; rub the ears and give your puppy time because most of the time they are a couple of months before they rise on their own. So I'm waiting patiently, and if they don't rise maybe it wasn't meant for them to. Hope that also helps! (02/01/2008)

By y_alfred
Ears Standing Up and Training a German Shepherd/Husky Mi
My 14 week old German shepherd/husky has had her ears up since the day I got her when she was 8 weeks old. :) I think your dog's will probably both go up soon, too! (04/16/2008)

By brittany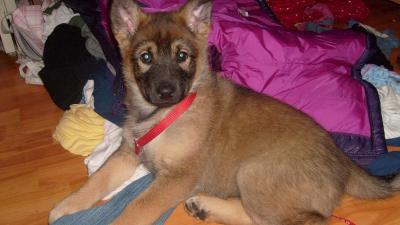 Training a German Shepherd/Husky Mix
Tell him to sit, repeat the command "stay" many times. Put a treat about 6 meters in front of your dog, and say "stay." If he tries to get it, be prepared to pull him back, work best on leash. If he goes to get the treat, YANK back the leash and put him into a sitting position and keep doing this until he stays. As you say the "GO GET IT" command, give him a push towards the treat. This should work. (05/04/2008)

By LD
Training a German Shepherd/Husky Mix
Hi! Wow, your pup is gorgeous! Well, I'll tell you something that is totally, 100% effective. If you go to www.cesarmillaninc.com or watch the Dog Whisperer, and apply his techniques with him, it will be the best thing you ever did! It takes a lot of work (still working on it everyday with my dog!) but it's so worth it. Try it once or twice. It makes SUCH a difference. (05/13/2008)

By Elizabeth
Training a German Shepherd/Husky Mix
I have a shepherd/husky mix also and her ears are already up. She's about 3 to 4 months old. Her ears hung down for the longest time, until about a couple weeks ago they started to rise and one stands up while the other is still a little bent over at the top. It takes time and also depends on how much of each breed is in them. If she is only shepherd and husky mix they will most likely rise all the way up, because I also have a full blooded shepherd and his ears are all the way up so they should rise up pretty soon. (05/19/2008)

By TINY
Training a German Shepherd/Husky Mix
I love all these dogs, very cute pics. :) (07/20/2008)

By schubunny
Training a German Shepherd/Husky Mix
Here is my Baby German shepherd/husky, Coco. She is 5-6 weeks old. Completely adorable and already learning very quickly! (08/21/2008)

By veronika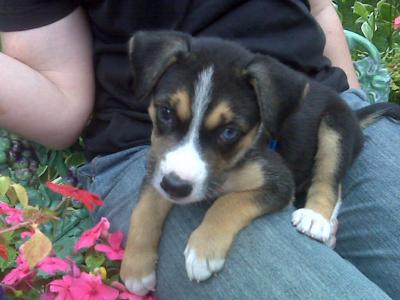 Training a German Shepherd/Husky Mix
This is our 9 week old husky/shepherd mix. Her ears only stand up when she's laying down, but we hope that they'll end up being straight when she's older. (09/22/2008)

By becky
Training a German Shepherd/Husky Mix
This is our German Shepard/Husky/Black Lab mix. He's 10 weeks old. He has really floppy ears but we love them and think they are sooo cute! We kind of hope they don't go up, I don't think they will though. I think it's the lab in him.

We have already trained him to "lay down." We did it by taking a treat, letting him smell it, then covering it with your hand and putting it in between his front paws and saying "down." If he tries to scoot back to get at it, keep moving it back to stay in between his paws, and don't uncover it until he has laid down. It only took a day!

I have also heard really good things about the Dog Whisperer that other people have posted about. Good luck, and don't stress about the ears, floppy ears are cute! :) (09/29/2008)

By kris101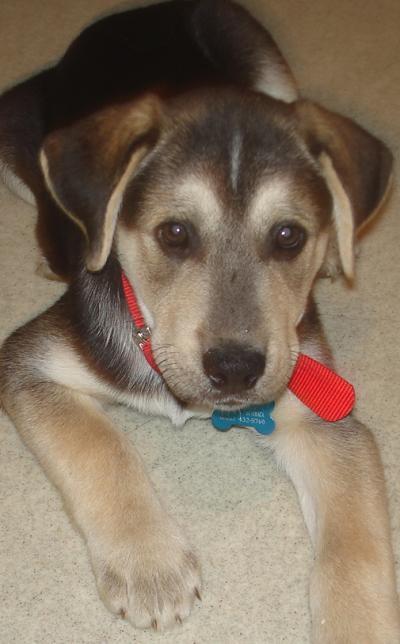 Training a German Shepherd/Husky Mix
We have a German shepherd, husky, lab, wolf mix. Koda is 1 year and 6 months old. We got him when he was 1 year and 2 and a half months old. Koda means friend in the Dakota and Sioux language. Which we thought it was appropriate for him, because he's so friendly with mostly everyone. He doesn't like people that drink or do drugs. He barks and growls at them, especially when they go past our apt., to the last 3 apts. where they do this. He also lets me know when someone else is at the door, by barking until I say it's okay, it's just the neighbors, or shhh, when I need to put his leash on him, when I answer the door. After I open the door, and I tell him, it's a friend, then he lets them in, other wise he won't let them in the door.

About ears being up or down, with our pup, his are always down. But we love him regardless. He has beautiful gorgeous coloring too. We have so many people say they want this pup, but we said no. We are going to keep him. He is very intelligent too. For most things he is very easy to train, for others it takes a little more time for him to learn the rules, but he's getting there. (10/31/2008)

By Shaynee
Training a German Shepherd/Husky Mix
I have a 13 1/2 year-old shepherd/husky and although I can't find the pics right now. When she was a pup it was so cute because one of her ears would stand up and one would fold over. However, when she got to be about 7 months both ears went up. I love these dogs. Just got a 6 week shep/husky last week. Her name is Morgan. 13 1/2 year old is Jordan. (11/06/2008)

By Rick
Training a German Shepherd/Husky Mix
I have a female husky/shepherd with her ears half up as well. You are NOT alone. Personally I kinda like it and in my case it fits her personality very well. She is very hyper and LOVES to take long hikes with the family. She was an addition to our first Male dog who is a Beagle. They get along great and have turned out to be the best pets we could have asked for. (11/14/2008)

By Aimee from CT
Training a German Shepherd/Husky Mix
This is my Husky/German Shepherd mix. He looks much different than yours color wise, but he has the same ears. People actually think he's part lab because of his ears and it's quite annoying, lol. He is tan, with white husky face marks, the curled tail of a husky (when he's excited) but it lays down like a Shepherd when he's calm, and the black saddle on his back like a GSD.

I thought they would stick up too since both breeds have that feature. But he puts them half way up when he is on alert but they lay back (not in a mean way) when he is sleeping or calm. Oh, and my dog is 3 and they haven't stood up yet. Your pup will probably get pretty big too. Mine is a little bigger than most husky/shepherd mixes but yours will come close. My boy Sage is 90lbs. and is as tall as me when he stands up on his back legs. Apparently, according to his previous owner they did when he was a puppy but then one day they didn't anymore. Who knows?

As for the training, I agree with the person who mentioned Ceasar Milan. Your body language says more than any words will ever mean to a dog. Words don't make you a pack leader, your body language and the confidence you have makes you a pack leader. My dog doesn't dare to disobey me because I make it clear that I am in control (without force of course).

When you are using treats to get what you want you need one in each hand. One to help direct them for what you want them to do (but never give them that one), and one in your other hand behind your back to give them when they do the trick.

I would also recommend using a clicker. Once they do the trick you use the clicker and immediately hand them the treat. Eventually he should do it without treats. Don't give up, he's still young. :) Good luck! (12/14/2008)

By Alexis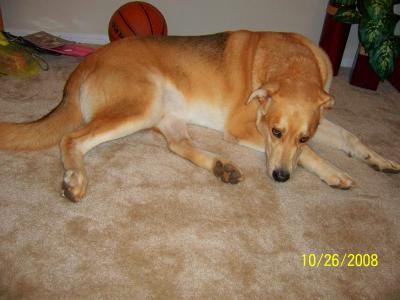 Training a German Shepherd/Husky Mix
My shepherd/husky mix will not stay or lay down for me but will lay down for others. He is not catching on to house training very well at all. He does pick up on my body language very well. He is 18 weeks old. He chews up everything when I'm not home but doesn't touch a thing when I'm around. How do I get him to stop chewing things up and to listen to me? (01/09/2009)

By Sam
Training a German Shepherd/Husky Mix
Here are some pictures of Crash, my GSD/Husky mix. The one with his ears down are at 3 months old, he is now two weeks older and they have just gone up. (01/21/2009)

By Carrie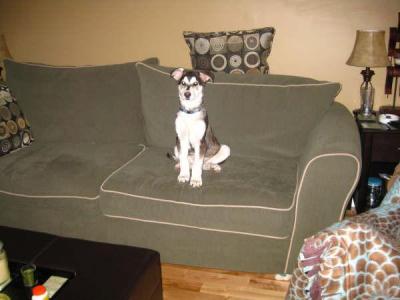 Training a German Shepherd/Husky Mix
I just rescued a GS and it's 2 years old and the ears are halfway up. I think they are going to stay like that. (02/16/2009)

By Andrew M.