November 10, 2013
0

found this helpful
Best Answer
As far as training goes, it's easy peasy with any dog, as long as you find the treats that motivates him! I had a dog once who'd do anything for dried apricots! It might take time to find out, but once you do, you will see your pup all but backflip for you!
As far as the ears go, don't get your hopes up. His ears might stand up or might very well stay half floppy! With mixed breed dogs, you never know what you're getting because it's never set!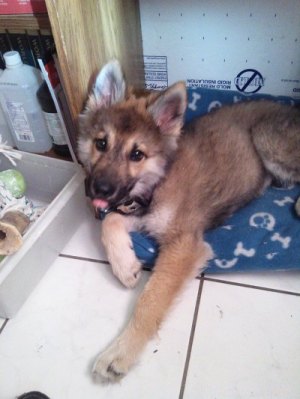 July 28, 2011
0

found this helpful
Love your beautiful boy for who he is irrespective of how his ears are. Remember he is crossed with a "northern breed" dog and will not always answer to commands. That's the way they are. Good luck.
June 9, 2013
0

found this helpful
My German shepherd siberian husky mix ears still aren't up and she is 4 months old. She listens good but only problem wih her is she tends to wander when not on a leash and runs to the neighbours house smelling everything and doesn't come when she is called because of distractions.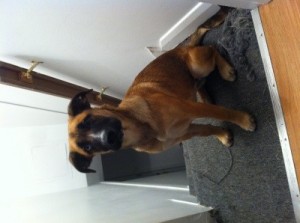 July 24, 2013
0

found this helpful
This is my little girl, Xena she is about 2 and a half months old. I am trying to train her but she seems a little stubborn to some things.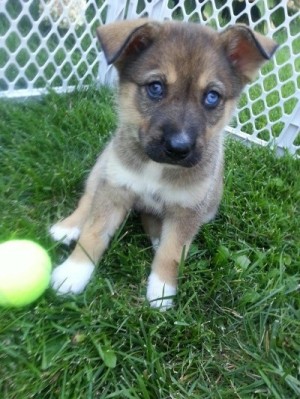 September 6, 2013
0

found this helpful
This is Conley, the love of my life. Lol he is 1 year old now and I was not able to train he well until he was 6 mos old. He was to stubborn and hyper. Then it was like all at once he caught on and is now the best behaved and well trained dog all around.
He travels to senior citizens homes with me and helps with dog therapy. His ears has always stood up but I believe some do stand up later. Just give your baby time, you will be glad you did.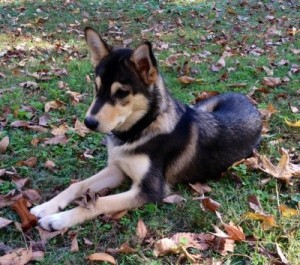 September 9, 2013
0

found this helpful
I have a 7 month old German shepard x husky. His name is Benji. He is massive for his age. I've had him 2 weeks. I love him to bits already but in the short time I've had him he has already embarrassed me more than anything. He has done his business in a pet shop and got out of his collar and ran in to a restaurant and even went in the kitchen (all the customers were laughing too while trying to save their food!)
He is the naughtiest dog I've ever had and I've had 2 german shepards. He's on the best food ever has regular 2 hour walks and still doesn't listen at all! Someone please help.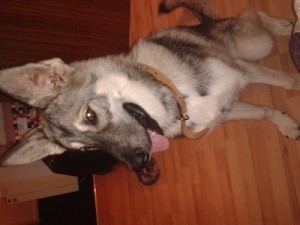 December 4, 2013
0

found this helpful
I just recently adopted out 2 year old German shepherd husky mix from the haven in nc! We don't know much of his past but he was a rescue from a bad home! At first he was shy and sweet but now he has come around a little bit! The only problem I'm having with him is he has no energy and he is too shy! We don't know if it was from his old home but hopefully we can break him an bring some life out of him!
His name is Daken!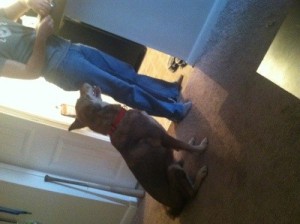 February 11, 2017
0

found this helpful
I have a German Shepherd and she has Gerberian Shepsky pups(second) litter. These pups are very active and playful they carry both the Siberian and Shepherd traits so on the Siberian side they will be a little mischievous,but they are a very intelligent hybrid. Around 6months old she/ he will be more focused on training with certain commands like sit and stay. My best advice is keep a firm voice because both breeds tend to want to be the Alfa in the pack. To them you are there pack. You have to be the Alfa. Do not hit your dog. You will not get anything positive out of slapping your dog. I have never laid my hands on my dog and she is the best dog in the world to me. Also if you have a male they are worse about wondering so you might want to get them nuetered. Your dog will be a great dog! As far as ears she still has a chance of them standing up. A tablespoon of plain yogurt helps harden the cartilage in the ears. Once or twice a day and she/he will have no problem eating it.
April 27, 2018
0

found this helpful
HI!! What is in yogurt that will help harden the cartilage in the ears?
Is it just the protein? Why not just put hydrolyzed collagen in their food? OK thanks for your input!!