I have a 4 year old male German shepherd, we got him when he was 13 weeks old when my husband came back from Iraq. We moved a lot with him and he had to get use to many different places. When we moved to Oklahoma he was 3 years old, and that's when the problem with him started. He got very aggressive toward everyone, he bit my daughter when she was trying to grab his collar to let him out, and I know she is afraid of him a little.
Well we just found out that we have to move again due the military to Germany, and I really want to take the dog with me. All the dog trainers I have been to have turned me away, so last week I went with him to a K9 training center. As soon as we got out of the car he wanted to attack the K9 officer. The officer told me to hold up the leash and that's when my German shepherd attacked me. He bit me in my shoulder and arm, I was in shock and at that moment afraid of my own dog. The officer said there will be no hope for him, that the best thing would be to put him down.

I really don't want to do that because I love him so much even though I'm afraid of him now. If anyone could give me some advise on what to do, and if anyone knows of a rescue that takes aggressive German shepherds I would really be thankful.

Monika from Fort Sill, Oklahoma

Update: I found a home for my German Shepherd. The K9 academy took him, the officer said he can be saved and he has high hopes for him. I am very happy.

Monika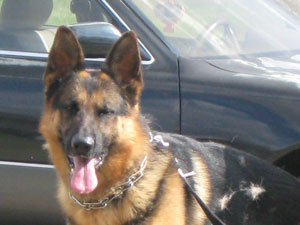 Answers:
Aggressive German Shepherd Behavior
Make sure he is neutered first of all, and then talk to your vet about medication to put the dog on for aggressive behavior and then maybe the trainers can even have a look at your dog. No trainer wants to lose a limb to train a dog. If not find a veterinary behaviorist. They will know the combination of medical and physical therapy to help your dog improve if that is possible. (04/08/2008)

By Candy
Aggressive German Shepherd Behavior
I love animals as much as the next animal lover but I think if he is that aggressive and has turned on you and your family, what's gonna happen if it bites a kid or another person or gets out? Just yesterday my kids friend's dog Sadie, bit another animal (a small yorkie), tearing into its flesh. It is part Shepard. The same dog who 2 months ago, when I came to the door to get my son, bit me through my jeans and tore a gash in my leg.
I still have a gaping hole that is healing, I think these people are nuts. They have kids there all the time, and this dog is a loose cannon. I think there is only so much you can do, and if a trainer is telling you that, you should listen. It's tough believe me, when we made our big move we had to put our 2 border collies up for adoption. Finding a good home was like saying I had to choose between my kids, but we had to do it. You don't forget but it does get easier! This is a lawsuit waiting to happen! (04/09/2008)
By Kim
Aggressive German Shepherd Behavior
This animal has turned on you and your child! Why would you wanna give it a chance to do it again or make it a more serious injury? I am sorry, I do speak first hand. I forgot to mention in my other post we lived on a farm and the way we met our neighbors is that we had gone bike riding. My son was 5, yes 5, at the time when all of a sudden a pack of these peoples pit bulls ran out and started to lunge at my son. I was doing everything in my power to get that dog to come towards me. I will never forget that feeling, as he grabbed onto my son's leg and tried to pull him off his bike.
The feeling of fear and imagine as I am standing there begging and screaming for help, the owner comes out and I have to plead for help. My son's leg was a mess, puncture wounds everywhere. I don't wanna ever think what would have happened, if he grabbed him off the bike. This dog was literally attached as we were trying to ride away, wouldn't let go now as I am standing there. Their children, 3 of them under 5, are telling me how this dog attacked his sister and bit her in her head and face and how he bit the other little boy in the leg. I was outraged. I asked how can you keep dogs like that when you have children and he's attacked them! I have a dog and if it ever did that it would be gone period. Believe me I became aware of the dog warden real well.
I was on a mission to get these dogs taken away and then the other one, I made sure was put down. We went through a lot of aggravation. They are lucky I never sued them for the trauma and scars! Anyone who keeps an aggressive dog better be prepared for what comes your way, and until you live through it, with your child or a loved one, don't preach to me about never too late! One day it just might be too late! (04/09/2008)
By Kim
Aggressive German Shepherd Behavior
I have trained now aggressive dogs for 30 years, and what I'm reading doesn't sound to me that he is hopeless. The dog attacked you, cause he was confused, different place different people, and for that k9 trainer to say to pull on leash, that's just plain nuts. He was asking for that attack to happen if he was so prof. he would of never asked you to do that. That dog has a future, he still can be helped and you are doing the right thing, not putting him down. I will e-mail you my info, I will take a look at the dog. Your dog looks beautiful, he looks very well kept up, you did a great job with him, sorry you had to suffer for someone elses mistake. (04/09/2008)

By Damarion
Aggressive German Shepherd Behavior
A dog doesn't become aggressive on his own. He becomes aggressive because he has not received proper exercise, stimulation, attention, etc. One has to be a responsible dog owner before acquiring any pet, especially a powerful dog like a German Shepherd.
I have a one year old female, and her needs are the priority in my household. She gets attention and exercise every single day without fail, and she has been well socialized with other dogs and people since the age of 8 weeks.
She lives with two other dogs and they also receive attention and exercise every day.
I don't believe a dog cannot be rehabilitated unless it's been trained as a fighting dog. A pet that has turned aggressive can be retrained and can become a good and submissive pet, even an aggressive German Shepherd, etc.
It is utterly foolish to not spay or neuter a dog no matter how much you would like to duplicate said dog.
A careless or lazy pet owner is asking for trouble and they will surely get it, and a good dog will be the one to pay the price. It's so sad to hear of a dog turning aggressive. German Shepherds are super bright and can be stubborn. They will sometimes test you like a child. Good luck! (04/09/2008)
By Nan Corpe
Aggressive German Shepherd Behavior
Your dog is in the right place. He sounds like a great candidate for police training or personal protection training.
Some animals don't acclimate very well to new and strange places. Your daughter should have never grabbed the dog's collar and you should tell her not to ever do that again to any dog. Once your dog sensed that his pack leader was weak and fearful, your dog 'used' that to his advantage. HE became the pack leader.
I'm happy that he is in great hands. (04/13/2008)

Aggressive German Shepherd Behavior
(submitted via email)
Hi, Does your GSD still dislike strangers coming into your house? Were you able to train him to stop? Our 8 month old GSD also dislikes strangers and we are also in the process of training. Is there hope?
Thank you!
Debbie (11/03/2008)

Aggressive German Shepherd Behavior
I wrote on 2/29/08 regarding my German Shepherd, Caesar. About how he would become aggressive whenever he grabbed something. Well I spent even more time with him and he is now a very obedient and loving pet. Yet he tends to be a bit overprotective when it comes to kids, if a stranger approaches he won't attack but will stand in front of the kids and growl at the stranger. Caesar has mellowed very much. I love my dog. (11/03/2008)

By E.B.
Aggressive German Shepherd Behavior
I rescued a male German Sheppard one year ago. It is my understanding that someone found him wandering, crying and shaking during a terrible storm. It is obvious he had been traveling for some time, because the vet suggested flies had been eating on the tips of his ears and he weighed only 72 LBS, his pads and claws were rough and split and he was covered in fleas and ticks.
I do not have his medical history or any personal information about him. I do not even know his age. He used to get along well with other dogs, but now when a dog or people step on my property or come to the door, he becomes very aggressive and barks like a crazy dog until I stop him. It is obvious that he had been very well trained as he is very obedient when he receives a command from me. He was quite timid when I first got him as I assumed it was because he had just been neutered...?
He sometimes nips on heels, ankles and tushes when guests are visiting. Also, he acts as the pack leader near the children, so I now put him away whenever we have visitors. Is there any way I can get my GS to stop his aggressive behavior? He is wonderful and extremely protective of me. I love him so much! Please help! Thanks!
(11/10/2008)
By Ruth
Aggressive German Shepherd Behavior
Hi. I don't know how old this thread of discussion is, but I need to say something very important. There is NO way you can compare the senseless, manic aggression of pit bulls with the behavior of German shepherds. In my country, pit bulls are regularly in the news for mauling and killing people. Not so German shepherds. Pit bulls are a terrible breed and, I believe, illegal in some countries.
On the other hand, German shepherds are intelligent, protective and respond beautifully to a relationship of trust, bonding, consistency in training and positive reinforcement. Mentioning 'pit bull' and 'German shepherd' in the same context is completely misinformed. The two breeds are worlds apart. (11/11/2008)
By Mia
Aggressive German Shepherd Behavior
I bought a Sheppard puppy 2yrs ago for my daughter's 8th grade present. Just today he started to growl at her. I quickly tried to tell him no, no growl. He repeated and the last time, showed his teeth.
What can I do to get him to stop this? He has been nothing but loving before this and only does it to her. Also she recently was hired 3 weeks ago to potty train a puppy, the puppy has stayed with us. Is this part of why this is happening? And what exercise can we do to correct the problem? Please help, we just love him (ROCKY). Please email me tnewby AT valspar.com (02/24/2009)
By Family of 4 with rocky