December 12, 2010
0

found this helpful
Well, to save time and a mess my lady buys the pie crust at the grocer. There are two types, one is the crust comes in its own pan. The other comes in a box. She prefers the one that comes in a box. She unrolls it and places in it a pan and then adds the apples or what type of pie she is making. The pie crust also comes with the top crust as well. Crust tastes the same to me as if made from scratch.
December 12, 2010
0

found this helpful
Definitely buy the crust in the refrigerato section of your grocery store is the easiest way, also there is no mess to clean up afterwards. Most people can't tell the difference.
December 14, 2010
0

found this helpful
I could tell you how to make a pie crust, if you really want to know. My Dad made the best, most flaky pie crust ever.
But, if you really don't want to deal with it, buy a Pillsbury pie crust in the refrigerated section of your grocery store. They're okay.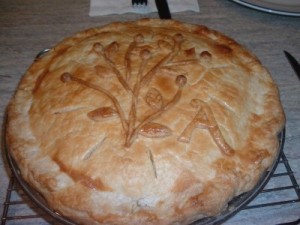 December 15, 2010
0

found this helpful
No Fail Pie Crust
4 1/2 cups unsifted all purpose flour
1 T sugar
2 tsp salt
1 3/4 cup SOLID veggie shortening NO SUBS
1 large egg
1 T white or cider vinegar
1/2 cup water
Put flour, sugar and salt in large bowl and mix well with fork. Add shortening and mix with fork until crumbly. IN small bowl beat egg, vinegar and water. Combine the two mixtures and stir until all are moistened. Divide the dough into 5 portions. Wrap each in plastic
wrap and chill for at least 1/2 hour.
Roll between two pieces of plastic wrap. You don't need the extra flour then. When rolled to desired size, peel off top piece of plastic wrap. Handle pie crust from bottom with remaining plastic. Invert and peel off into pie plate.
Prick bottom and sides of pastry thoroughly. To keep shell flat place parchment paper or foil over crust and press gently into the crust. It help help prevent shrinking. Or blind bake with beans or rice over foil. Bake 10 minutes until crust has set and then remove foil and or beans or rice and bake til browned for about 5 to 8 minutes.
Use dark metal or glass pans for this crust only. not shiny.
I hope this helps you It is a very easy to work with dough and taste great.