October 23, 2009
0

found this helpful
He does look like a little doll. I'm sure he's the king of the house. I love small dogs too. Mine crawls under the blankets, turns and plops right down so he is touching me around the tummy area.
He has to be near me always. When he is on couch with hubby he is looking in the kitchen for me. When I walk in the other room he jumps down so as not to miss anything with his mommy.
October 23, 2009
0

found this helpful
Eddie love to get under the covers with me too, and both dogs follow me from room to room, I love my furry friends. This picture is of both my babys.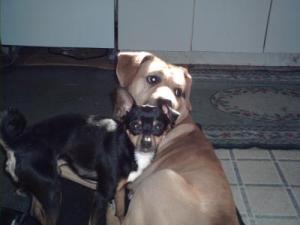 October 25, 2009
0

found this helpful
The photo of your two dogs together is worthy enough to be on a calendar; that is so cute and you can tell they really like each other. I love it. The tricolored tiny dog looks a lot like my daughter's chihuahua too.
October 26, 2009
0

found this helpful
Eddie is a cute lil guy. Love the one folded ear. He looks like a lot of fun. Also love the two dogs snuggling.
October 28, 2009
0

found this helpful
lol! My "little buddy" and the king of our house is Tigger, our 3.5 year old mixed breed.
He's about 60-65 pounds, little to us, and he gets so jealous when hubby hugs and kisses me - he's worse when hubby starts to "pick on Mommy," lol!
October 29, 2009
0

found this helpful
Eddie got loose tonight and was gone for over an hour. My husband and step-daughter was looking for him everywhere. When they found him he smelled like he had played in a pig pen somewhere. He had to have a bath, he just had one last night. He is an inside dog, I only let him out in a fenced in yard to do his duty, but the gate was left open, and he was gone like like a flash.