By (Guest Post)
May 1, 2007
1

found this helpful
Best Answer
Paint milk jugs or pop bottles black, fill them with water and put the top back on and set them around the plant you want to protect. Voila! Homemade "wall o water"!

October 18, 2019
0

found this helpful
This is a great idea. It also solves two issues that the wall of water has. 1) With caps on the bottles there's no evaporation so you don't have to keep refilling. 2) Hard plastic will hold up much better and you won't have to deal with cells that leak.
By Debra Frick (Guest Post)
May 2, 2007
0

found this helpful
Best Answer
I take 2 liter soda bottles and glue them into rings with silcone caulk and set these around my plants take the hose and fill them. I don't even paint them black. These are wonderful for around young plants.
I find gluing them together seems to make them last longer and you could drill small holes or poke them with a knitting needle to make slow waterers out of them.
By rabbit10mom (Guest Post)
May 1, 2007
0

found this helpful
A lot of folks use a wire cage around the tomato plant, then cover it with a black trash bag. The black bag soaks up sunlight and warms the soil around the plant so it stays warmer at night. Also, planting the tomatoes through black plastic is another way to warm the soil and get those tomatoes growing fast.
This year, I'm going to try planting my tomatoes in large buckets suspended from my porch ceiling with the tomato plant growing out of a hole cut in the bottom. I'll be adding a 2 litre bottle with small holes punched in the bottom of it to the soil mixture in the bucket so I can add water and let it soak in slowly all day. I live in the country where deer love to feast on our gardens, so I'm hoping that having the tomatoes growing on my porch will be a deer deterent. I'll let you all know!

May 2, 2007
0

found this helpful
I read in an old issue of This Old House magazine that you can reuse old sheetrock buckets to water plants by drilling a small hole in the bottom and filling it with water. The water will drain out slowly, watering your plant gradually.
Personally, I wouldn't want big white buckets all over my yard, so I wonder if you could find something prettier and drill a hole in it. Maybe a large ornamental vase? Hope that helps :)

May 2, 2007
0

found this helpful
Thanks everybody. I'll keep these solutions in mind when the season wanes.
Right now my plants are kind of tiny and the weather's been real nice. I made kind of open-topped cloches with disposable plastic drinking cups from the dollor store.
I'll put a picture on tomorrow.

May 3, 2007
0

found this helpful
not the best picture, but here's what I've done so far with my little tomato plants.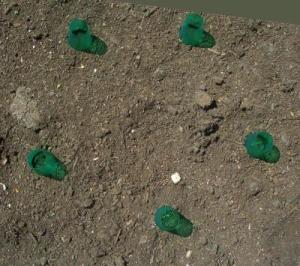 May 3, 2007
0

found this helpful
The perfect answer just occurred to me! You know the little "air packs" that are sometimes used instead of styrofoam peanuts? They usually come full of air in a long, perforated strip. If you poked a little hole in the top of each pack and filled it with water, you would have an instant "Wall o' Water!" Even if you got some that were already seperated, you could tape them back together, using exactly however many you'd need to wrap all the way around the plants.
Yay!