24 gifts for under $20.00. Make beautiful earrings as lovely Christmas gifts for her to wear all year round! Silver plated or 14K gold plated - OR - silver and gold toned findings. Almost every woman loves to get jewelry for Christmas. But times are getting really hard and we really can't afford such gifts, until now. With my easy steps, you can make precious stone earrings for all your loved ones.
Approximate Time: 3 Hours
Supplies:
pliers (You can get theses cheap at any Dollar Store $1.00.)
pack of 48 long flathead pin findings ($2.99 and up)
50 grams of any color seed beads (Mixed always works best!) ($ 3.99 and up)
25 grams of any small glass beads ($3.99 and up)
one strand of semi precious stones 24-36 small - med size pieces ($4.99 and up)
pack of 48 stainless steel hook findings ($2.99 and up)
Where to Buy:
Michael's or Joann's Fabric. If you go to either of theses stores, please go to their website and sign up for the mailing list and receive a 40% off one item coupon to save extra money!
Buying Tips:
You may use Michael's coupon at Joann's and vice versa. If you have the time, order your supplies off of e-Bay. Most Hong Kong sales take about 21 days to receive, but you can save up to 50% off your supplies. Start early and save more.
Instructions:
Take the semi precious stones, glass beads, and seed beads and lay them out in front of you.
Get a feel for the colors and take your time to match them up. Choose the stones that you are going to make your first pair with. Set them aside.
Remove 2 pin heads and 2 hooks from your packs of findings.
Put the beads in order on the pin head. Make sure the pin head is large or small enough for the beads to fit (such as 1mm or 2mm or 3mm). Make sure the size fits. If the bead is too large for the pin, add a seed bead before adding any other beads.
When you are done adding beads, leave enough space to bend the pin head with pliers, add the hook and bend the pin over to make one small loop and you're done!
Takes about 5-10 minutes per pair. Have fun and please look for my easy step necklace and bracelet gifts.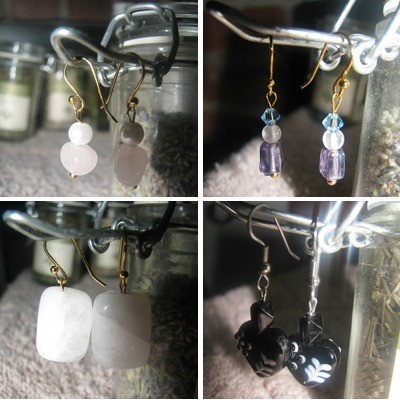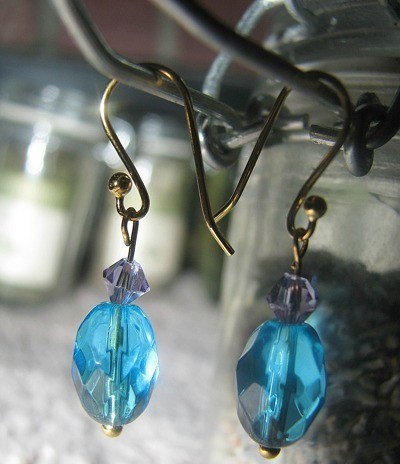 By Cathy Shaw from Bay Area, CA