August 29, 2008
0

found this helpful
You may want to google dried soup mixes, like the gift jars that look so pretty. Everything is there except the water. Most of them can be made in a day in the crock pot, making sure they don't go bad. What is better than fresh soup on a cold winters day? You can also find that old peanut butter or mayo jars work great, keeping the jars safe from breaking.
I just googled it and put in "gift jar soups" and got about 201,000!
You are sure to find some great recipes there!! Good luck and happy cooking!!
Just thought of something else...give her a soup mug, some designer crackers, some fancy flavored butters, and a soup cookbook from the dollar tree in a sweet basket!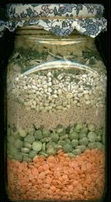 By Grandma J (Guest Post)
August 29, 2008
0

found this helpful
ucanr.org/ This is the California Extension Service website that should be able to help you. All Extension Services have website helps with canning, gardening, etc. You can also freeze soup, minus noodles, pasta or dumplings.
By Darlene (Guest Post)
October 20, 2008
0

found this helpful
Cream of Broccoli Cheddar Soup
5 lbs broccoli (stems & florets)
3 onions, peeled & chopped
6 garlic cloves, peeled and chopped (or to taste)
1 Tbsp vegetable oil or butter (optional)
24 cups vegetable or chicken broth (Note)
Salt & Pepper to taste
Tabasco sauce to taste (Optional)
Cut the florets from the stalks and chop roughly. Chop the stalks up roughly also. Place them in a steamer and steam till just tender crisp. Place all the broccoli into a food processor and pulse until fairly fine.
Meanwhile mince the onion and garlic and saute in 1 Tbsp oil or butter until translucent.
Place 24 cups of broth into a large stock pot and add remaining ingredients. Bring to a boil over medium high heat. Reduce heat and simmer for 15 minutes.
Ladle into hot jars leaving a 1" heads space. Process pints 60 minutes and quarts 75 minutes at 10 lb pressure. Adjust pressure according to altitude and style of canner.
Makes: 16 pints or 8 quarts
ON REHEAT: To each pint of soup. Make a roux of 1 Tbsp butter and 1 to 2 Tbsp flour and add 1 cup of cream (or milk) and heat till hot and thickened, stir in 1/3 cup grated cheddar (or to taste) and stir till melted. (double for quarts) Gradually mix this into the pint of soup and heat over medium high heat stirring constantly until thickened and heated through.
NOTE: If using store bought chicken broth you may need to add a bit of chicken bouillon. The stock should be a little stronger tasting because you will be adding more liquids on reheat. I use 2% in my soup but cream will make a richer soup.