Tippy is our 5 year old Maine Coon. Tippy walked into the door of our house 5 years ago on a hot summer night and never left. She picked US I guess you could say. We ran an add in the newspaper trying to find her owner, posted signs around the neighborhood with her photo and no one answered it. She has truly been the joy of our family.
Tippy loves balls! Her favorite pastime is slapping her favorite toys around the house
My youngest son Garrett was only 2 years old the day Tippy came into our lives and she has adopted him as her baby. If he gets hurt and cries, she is the first by his side, she sleeps with him and follows him everywhere he goes. Tippy is also a mute cat. She never makes a peep, so we have taught her kitty sign language, that she understands. She is a very special little lady to us and we are sooo happy that she found us!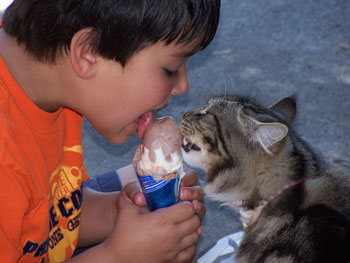 By Lavida from Medford, OR