This is a photo of my baby girl a few years ago. Desiré was a kitten from my mom's cat, Lily, so she is a grandkitty. I've had her longer than I have been married. She is about 10 years old now and not quite as playful but still sweet. Don't try to rub that belly, she bites!
Jess from Portland, OR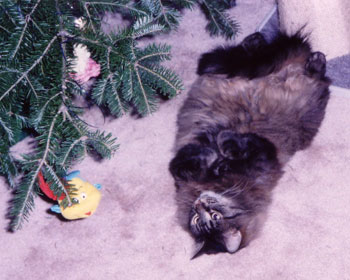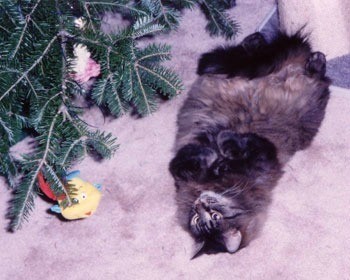 Add your voice! Click below to comment. ThriftyFun is powered by your wisdom!
Add your voice! Click below to comment. ThriftyFun is powered by your wisdom!
This post is in memory of our darling cat, Desire. My husband and I adopted Des when she was just a tiny kitten, before we were married. She was from a litter of kittens from my mother's cat, Lily. That was in 1996 so she would be about 15 now. I remember we took her with us when visiting family for Christmas, because she was still so small. My husband's grandmother was charmed by her and took photos of her walking on the piano keys. I have many cute kitten shots, but they are boxed up somewhere as they were before digital (at least for me).
Des was a beautiful cat. Her father was named Tommy and was a cat who lived in my mom's neighborhood. He was probably pure Maine Coon, a big striking cat that was always really friendly. Her mom, Lily, was small and pure white. Des got her looks mostly from her dad, but she was small boned and delicate.
Desire was always very opinionated. She used to pee on things to show her displeasure. I was just finishing college at the time we adopted her and she used to deliberately pee on my roommate's bed :( She moved cross country with us in the car and it was a bit messy, as you would expect. She also was unhappy when we brought our first baby home from the hospital, as if I didn't have enough laundry to do at that time. She chose to live part time with a neighbor for awhile. We could see her in the apartment across the way. Eventually she forgave us for replacing her and came back to be with us.
When we moved back to the West Coast, we arranged to have her flown home instead of making her ride in the car for three days again. My poor brother said that she wailed the entire flight! She was a bit indignant when we brought our second son home, then again when we adopted a new cat, Patton. And, she was really mad at us when we brought home the final indignity, our Chow puppy, Honey.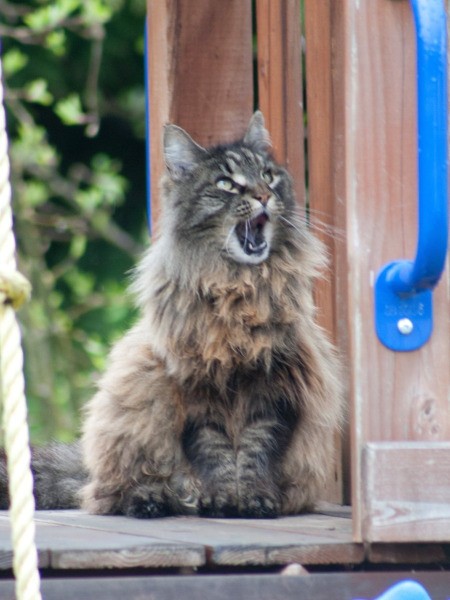 She wasn't always unhappy though, far from it. When we bought our house, she loved to sit and watch the cars go by, and squeak at any birds she might see. She was always the ruler of the household, keeping us all in line with her poses and disregard for any rules. Rarely, she would allow us to rub her belly for a few minutes, but she would then decide it was beneath her dignity and would bite or scratch to show who was the real boss. Cats can be so funny.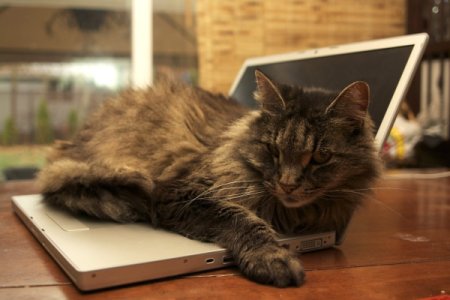 This last summer, she went missing. We feared the worst, but she turned up a few weeks later. Then, about a month later, they started doing road work outside our house and she disappeared again. I have been putting off making this post, because I have been hopeful that she would turn up. It has been a couple of months now and the weather is turning colder. I hope that she found another home to live at, but she probably wandered off to die in peace. I miss her terribly and will never forget my first baby.
By Jessica from Hillsboro, OR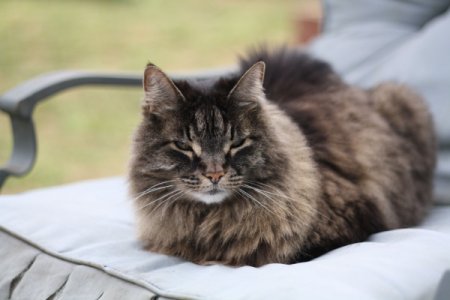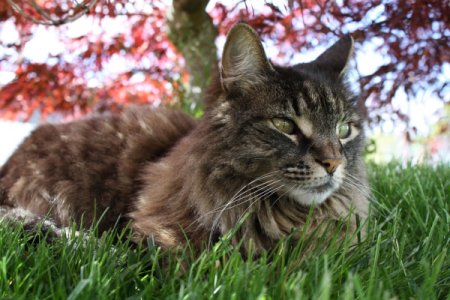 November 28, 2011
0

found this helpful
What a beautiful kitty! I'm so sorry she is gone.
November 28, 2011
0

found this helpful
What a beautiful cat. I hope and pray she returns to you one more time. It hurts to lose these little creatures.
November 28, 2011
0

found this helpful
Thanks for sharing your beautiful kitty and I'm so sorry she hasn't returned.