By Linda in Alabama (Guest Post)
June 28, 2007
0

found this helpful
How sweet! I have a granddaughter whose 2nd birthday is today, and she also loves cats! She has one named Lizzie. She calls her "La-La." So every cat she sees she calls "La-La." Her cat is very sweet to Zoie -- she lets her lay on her and love on her! This is a picture of me and Zoie. I don't have one of her with her cat.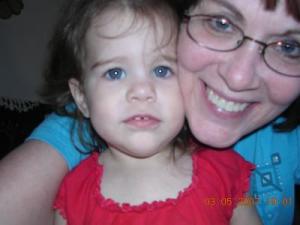 June 28, 2007
0

found this helpful
Oh she's a doll! And so is the kitten! I bet she's a great pet-owner!
By Alice (Guest Post)
June 28, 2007
0

found this helpful
Show me pictures of all the cute animals in the world, and NONE can compare with the beauty of a child! Your granddaughter is beautiful and I hope she will enjoy a long and happy life.
And, here is a sweet little boy just right for a sweet little girl -- my grandson Isak!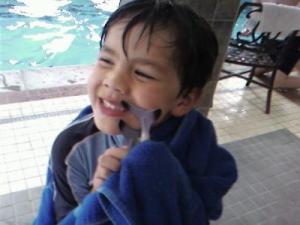 June 29, 2007
0

found this helpful
Hannah is a beautiful, precious girl! I'm so glad you're teaching her to be gentle to animals. Give her and Kee-Kee both a big hug and kiss from this grandma.
God bless you!
By (Guest Post)
June 29, 2007
0

found this helpful
Please be careful and always be with her and the cat. I know your granddaughter would never mean to hurt her cat. My neighbor's daughter was scratched very deeply close to her eyes by the family cat.
Unknowing to them, she was handling the cat and apparently squeezed and hurt the cat. Sadly, they took the cat to the pound after this happened. I feel that was wrong since the cat only reacting like any animal would. So please be very careful.
June 29, 2007
0

found this helpful
PRECIOUS PICTURES AND THANKS FOR TIPS ABOUT CATS SCRATCHING CHILDREN - HANNAH HAS ALREADY LEARNED WHEN THE KEE-KEE SCRATCHES, SHE PUTS HER DOWN OR GIVES THE CAT TO HER MOMMY!
HERE'S A PICTURE OF HANNAH WITH HER DADDY TEACHING HER HOW TO BE GENTLE WITH KEE-KEE!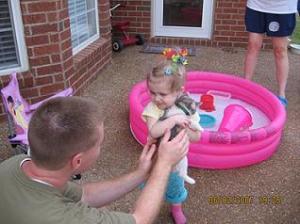 July 13, 2007
0

found this helpful
Aww how sweet.
Yes, gentleness with animals is the best thing to teach her. Not only will it give her a great start as an animal lover but will minimize the risk of someone getting hurt.
When I got my kitten Simba, he was all claws when someone picked him up. He had grown up in the house where there were 2 little kids who, of course loved the kittens and would fight over who gets to hold them.
So poor little Simba had been pulled and dropped, I mean literally dropped on the floor like a bag of potatoes. And he just wanted to hang on for dear life the moment someone picked him up.
It took a long time and lots of very gentle picking up before he got over grabbing on with all claws the moment he is picked up. Now he is a big boy, over 25 pounds and I and my husband are the only ones who can pick him up although he keeps his claws in.
He is still somewhat people shy though and we let HIm decide whether or not he wants to go smell and visit somebody new.
Loved your pics, 2 babies growing up together.