Instead of buying a canopy, build your own.
Here is the canopy I built using supplies from Wal-Mart and Home Depot. Why spend $500.00 when you can spend $50.00 and get what you want by doing it yourself.

By Kristina M.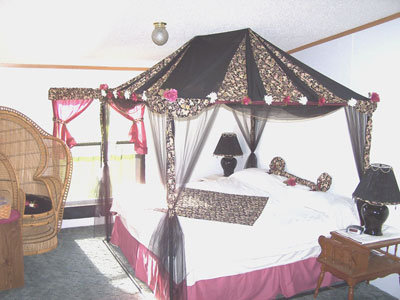 Answers:
Build Your Own Canopy
Beautiful! You are very creative. You must leave instructions for this. (10/13/2005)

By Jean in GA
Build Your Own Canopy
Wow! That is gorgeous! You have some real talent. (10/14/2005)

Build Your Own Canopy
That looks great, it'd be perfect for my friend's birthday present. Do you think you could send me the instructions. jam_rox9 AT hotmail.com
Editor's Note:
I'm not sure if she still comes to the site. This was posted quite some time ago.
(06/29/2007)
By Ashley