November 26, 2008
0

found this helpful
I had two very sweet goats and they were always in the big shelter we had. I could also put them out on a lead and they would eat some of the grass, but were very picky about which grasses they ate and left all weeds alone! Be very careful though as a stray dog could be a true nightmare! It is in their blood to take down small animals.
Mine happened when the neighbors dogs got loose and in the pen, and lucky for me i got back the money i spent on them as the dogs got in but couldn't get out and i held them hostage for ransom! Can you tell i am bitter?
Seriously though I can't wait to get some more goats, but will make sure they are protected well because they are too easy to get attached to.
November 26, 2008
0

found this helpful
As far as shelter goes, many farm animals live totally outside and do ok but I'm of the opinion that everything needs SOME shelter from the rain, etc. Even just sun can be a miserable thing with no relief. I do tend to be a bit overzealous about my animals.
By Karen L (Guest Post)
November 26, 2008
0

found this helpful
I have pygmies and yes the do need shelter but a dog house is fine. They hate getting wet and I agree with the other post, everything needs some kind of shelter. They are very sweet animals but very curious and can be more so than a cat.
They also will get on top of your cars if they have the chance. If you do tether them, make sure the collar doesn't rub a sore on their skin. They will eat grass but won't eat just any kind of weed or grass. So don't expect them to keep it manicured.
By Shelly (Guest Post)
November 26, 2008
0

found this helpful
Do you have shelter for your dogs? All animals need a place to get out of the weather...hot, cold, rain, thunderstorms!
November 26, 2008
0

found this helpful
Thank you for the advice! I really didn't think that sounded right. The lady said that they have a thick inner skin, but I tend to spoil my animals and was really not comfortable about leaving them outside. I didn't know they didn't eat any kind of weed, but that is ok.
They will be more like pets. We have some old tires laying around and will put them out for them to climb on and such too. I am really trying to learn about them so that I can be prepared before we do get them and bring them home. Any advice appreciated!
November 26, 2008
0

found this helpful
A racoon can kill a pygmy goat. Don't leave them unattended if you have coons in your area--possibly even owls or opposums. They will need some sort of shelter--if nothing else for lightning and heavy rain.
November 26, 2008
0

found this helpful
Goats of all breeds naturally reach up for twigs and leaves and are classified as 'browsers', while sheep reach down and are 'grazers'. So sheep are the natural lawn mowers, the Queen of England employs The Royal Shepherds to keep the Royal Flock mowing along, and the people of England love it.
So no, 'free mower' is a terrible description for a goat. They will walk all over looking for roses to eat, including challenging fences.
By Stacey (Guest Post)
December 4, 2008
0

found this helpful
Goats are great pets. I bought my first goat this past summer, and we love him! He is awesome for weed control, but does need to be tied carefully because he ate garden flowers. About tying- Kujo (the goat) came from a breeder who had never kept him in a fence, but on a dog tie-out cable instead. This works very well for him and I can tie him where I need him. We built a shelter out of 2x4's and plywood, about 6' x 6' and 4' tall. It is light enough to move around but keeps him safe from the elements. For winter he is up closer to the house- happilly greeting us when we get home! :)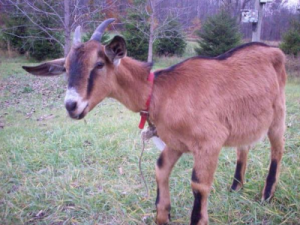 December 5, 2008
0

found this helpful
Stacey
Thank you so much! That is a lot of good information and the way we are wanting to do our goats. Tying with the dog tie out and making a light movable shelter.
I am so glad to hear how well it works for you. Do you have just one goat? I heard from several people that they get lonely. I will be home most of the time to keep an eye on him but I don't want him sad either. Thanks.
December 7, 2008
0

found this helpful
Kelly,
You are very welcome! To answer your question, yes goats need companionship or they will get lonely (and try harder to escape). Kujo is an only goat, but the main reason we bought him was to be a companion for my only horse. I just move his shelter around the outside of her pasture, allowing them to be close enough to socialize and be silly. It works out great for both of them! :)
By Someone! (Guest Post)
February 21, 2009
0

found this helpful
I was just wondering if any one knew how much a pygmy goat is in England, and where I can find one?
May 10, 2010
0

found this helpful
I've read that they always need a shelter. You shouldn't leave them tied up because it leaves them helpless to dogs and small children.