By guest (Guest Post)
September 15, 2006
0

found this helpful
Very likey it should be fine. Airlines require the animal to be able to stand up, turn around, and lay comfortably. A puppy training crate should be no bigger than that. If baby can "do" anything in the crate it is too big. Rather than buy a new crate see if you could rig box or something to take up extra space until the puppy is large enough to fill out the crate.
September 18, 2006
0

found this helpful
We use the plastic crate/kennel that you get at the
pet stores or WalMart. Our Yorkie and Jack Russell
go in when told we put a few treats in it now. They learned small and now they are on the loose in the house with us all day. We crate them for an hour or
two daily to keep them used to it. We leave the house for a few hours to shop/errands/dine and they are fine in the kennels.
By guest (Guest Post)
September 19, 2006
0

found this helpful
I have two GreatCrates for my rescued LH dachshunds. (I bought them over the internet from one of the pet places, maybe Drs. Foster and Smith?) I agree that most experts say a crate should only be large enough for the dog to stand and turn around. Since you have a puppy, you might try to find one of those crates that has a movable/removable divider. You position the divider so the dog has just enough space as described above, then move the divider to provide more space as the dog grows. Good luck with your pup!
January 22, 2007
0

found this helpful
use one that goes with the size of the puppy, allowing some room for growth. place blankies,toys, snacks and chew bones inside. keep door opened, unless pup is sleeping. that way , you can combine crate traning with potty traning. i myself, paper box train. snuggles crate trained herself. when she is tired she goes into the crate on her own. when she wakes up, she needs to come out and go potty.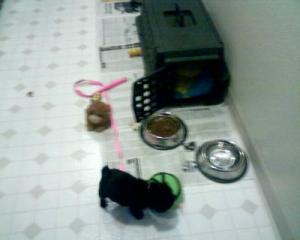 By guest (Guest Post)
December 30, 2007
0

found this helpful
I have a female pit bull puppy. She is only 6 weeks old am having the hardest time potty training her. When I do have her in the crate she either sleep or playing with her toys. Other then that as soon as she awakes, I take her out of her crate, and place her onto her mat so she can use the potty.