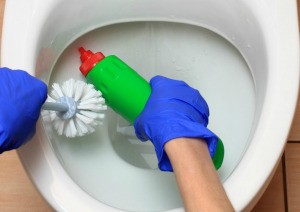 How do I clean a very dirty toilet?
By val dumbrell

Answers
March 21, 2011
0

found this helpful
Best Answer
This sounds really strange but to clean from the water line down empty a bottle of Coke in it over night, don't know how or why but is works!
March 22, 2011
0

found this helpful
Best Answer
20 mule team Borax, leave it sit over night on the stain (turn the water off if necessary so the bowl doesn't fill) If the stain has lime or hard water deposits, scrub with a pumis stone. I own a cleaning company and have tried it all, this has never failed me and I don't worry about fumes building up or acids eating through the pipes on older plumbing.
October 14, 2011
0

found this helpful
Best Answer
Okay, thank goodness I came across this. I tried the suggestion of 20 Mule Team Borax (powder) and a pumice stone from Thenicholas3. Both can be purchased from Walmart. I purchased the heavy duty pumice stick which cost only $1.88 instead of the Revlon pumice stone for women :).
Emptied out the bowl of water, poured in the borax, left it overnight, and just pummeled it with the stick. By golly, the stain got removed. It was bad. It was like a perpetual streak mark. It was on the very bottom of the bowl left that accumulated because of unflushed urine.
Hooray for Borax and pumice.
June 28, 2015
2

found this helpful
Best Answer
I have to say thank you to ALL who advised a pumice stone. I have 4 boys in my house and let's just face it, my toilets are horrific. have been trying to take out all the nasty grunge from my toilets for quite some time now with no success. I've used all kinds of expensive products because the mindset is that the more expensive, the more likely it is to work... Not so much.
After reading these responses I quickly headed to the nearest Wal-Mart, found the pumice scouring stick and grabbed some lime away. Spent about 5 bucks! Came home and tried it without even letting it sit. Worked wonders! My toilet looks amazing! All the brownish black crusty grunge is gone! I promise you, anyone in the same toilet nightmare, this works! I'm headed to my teens toilet upstairs. It's the worst one. I leave it to him to clean and all these years of cleaning his bathroom, the toilet is neglected.
So wish me and my pumice scouring stick luck! I'll post before and after pics when I'm done. Again, thank you thank you!
Answer

this Question