Dress up a simple tee or wear it in your hair, either way they are fun to make and wear.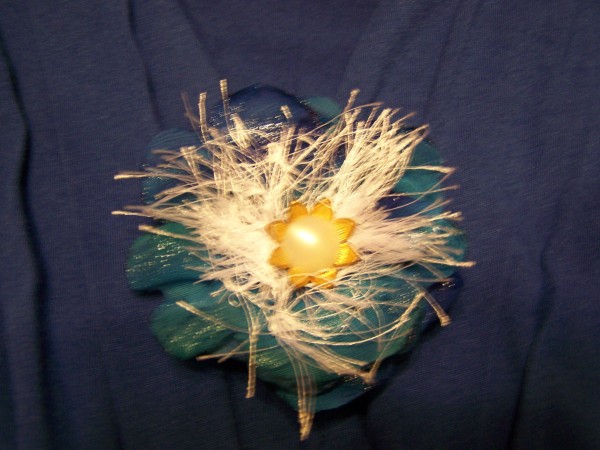 Approximate Time: 15 minutes
Supplies:
1/8 yard synthetic silk
needle and thread to match
scissors
fancy buttons
yarns or fancy ribbons
tea candle
match
small bowl of water
wet paper towel
Instructions:
Since you will be using flame this is not a craft for children and please be careful. Have a wet paper towel or small bowl of water close by! I don't intend to scare you I just want you to be careful and safe. These are easy and safe to make, but you must always be careful when using an open flame.
You will be melting the edges of the fabric by holding your fabric slightly above the flame. I use a tea candle so it sits low on the work surface.
Using the pattern provided, make at least 5 shapes by folding the fabric into 5 layers at one time. Lay the pattern on the fabric and fold the pattern and fabric in half as shown in the photo.

Cut out around the pattern, don't worry about being exact as your edges will not matter. Remove your pattern, but before separating your fabric make a 1/2 inch slice in between every other petal hump through all 5 layers.
Separate your layers and doing one layer at a time hold the edges over the flame, start about an inch above and work your way around each petal. Going closer to the flame as needed to singe the edges. Be careful, the edges will be hot for a couple of seconds, you are melting the fabric. When you come to the slit work the flame along the slit, this will make your petals curl.

For the top layer I hold the center of my fabric layer over the flame to shrink the whole layer. Repeat for all of your layers. You can either use fancy buttons or a tassel sort of topping.
I wrap fancy yarn or ribbon around three fingers 12 to 15 times depending on the material. I slip the loops off and hold them together while I wrap a 6 inch piece of the same material around the middle; tie it off. Then, depending again on the look I want I either cut the loops or leave some and cut some.

Arrange your layers so the curls please you, top with a fancy button or your "tassel" and sew through all layers in a small circle to make sure you have a good base. Now cut and fold a piece to hide the stitches on the back from the petal fabric or other sturdy fabric.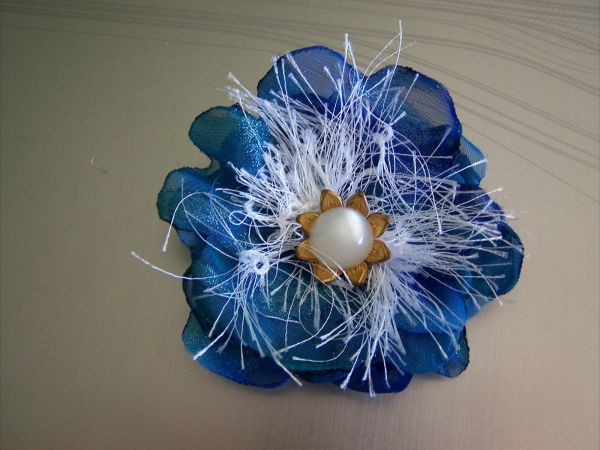 If making your flower into a pin. Sew on a pin back and enjoy your synthetic silk flower.
Try mixing different colors of fabric and different shapes of petal patterns for fun.
As you can see they can be used in a variety of ways. The red and blue tops were a little too low for wearing to some occasions and the flower makes a pretty solution to that temporary problem.
Dress up a plain tee with a grouping around the neck or on one shoulder. They are so light weight you won't know they are there. So cute on a clip in the hair and the little girls especially like having something no one else has as we all know. They are so quick and easy to make you can get 3 five layer flowers from one 1/8 yard of fabric.
I found a great variety at JoAnn's Fabrics on sale for half price, that made my flowers around $2.50 each.
By Ann Winberg from Loup City, NE