November 16, 2008
0

found this helpful
Best Answer
DO NOT give dogs/cats asprin/ibuprefen without ok from a vet.
I also have been taking 2(Glucosamine HCL 1500mg with MSM 1500mg.) daily - the bones in my knee were grating against each other and I was in a lot of pain, could hardly walk.
When my 15 year old chocolate lab last year started having a lot of trouble walking especially the hind legs, I gave him one pill daily - within the week he was noticeibly better.
But NEVER give a dog people meds especially asprin (thins the blood) without checking with a vet.
By Marna. (Guest Post)
November 18, 2008
0

found this helpful
Best Answer
You've already heard NOT to give ibuprofen to dogs; it can be fatal. If you use aspirin, you want to use enteric-coated aspirin to avoid tummy upset. However, go by what your vet says as aspirin can cause internal bleeding, just as it can in people.
I've been using Drs. Foster and Smith (on line) Gluco C with MSM on my old dogs for years and it's amazing. It's condroiton, glucosimine and MSM which works wonders. Even better, it comes in chewable liver-flavored tablets you toss to the dog like a treat. My 16-year-old hound and 13-year-old Springer both love them.

SL Edens
Bronze Feedback Medal for All Time! 139 Feedbacks
November 16, 2008
0

found this helpful
Hi Betty! Poor Spud :( ! You made me wonder if dogs could take glucosamine ... and apparently they can. I just keyed it in the search engine and several sites came up. I have had problems with sore hip joints but glucosamine helps me sooooo much. It's something you might want to research and talk over with your vet.
Again, key in "ibuprofen for dogs" to research that possibility. From everything I've read, it's not really a good idea in that it can cause stomach problems and also reach toxic levels quickly. I'd call the vet.

November 16, 2008
0

found this helpful
You cannot give Ibuprofen to a dog; but aspirin is OK. Call your vet to check on the dosage; they will usually give you an answer over the phone without your paying for a visit.
There is also a drug called Rimadyl which your vet can give you, but aspirin is cheaper.
Also, I was given a medicine for my Yorkie called Dasuquin after his knee surgery. I think it is a glucosamine supplement. Whether it is a preventive or actually relieves pain I don't know.
By lorraine (Guest Post)
November 16, 2008
0

found this helpful
As strange as it may sound. Give your dog the juice, bone and a bit of salmon. Add it to his food or give alone. About once a week I will make salmon sandwiches for lunch, so I don't waste the whole can.
My black lab has not had any problems with his hip, since I started doing this.
By Shelter Worker (Guest Post)
November 16, 2008
0

found this helpful
Glucosamine is ok to give the dog but you should also take the dog to a vet. There may be something more you can do for the dog.
Your dog deserves at least one vet visit to find out what's really going on and what the best course of action is.
By phyduex (Guest Post)
November 16, 2008
0

found this helpful
I don't know about ibuprofen, but as our dog has aged (14 years young!) we've been down the pet-supply-isle at Walmart more than once. Hartz makes a doggy asprin that we keep on hand. I think it cost about five dollars for 120 pills last time. Well worth it to me and our furry old friend.

November 16, 2008
0

found this helpful
If dogs are given aspirin it should be buffered, but please check with a vet before giving your dog any medications. Also, both of my dogs have knee issues so I give them Nupro Joint Supplement once a day on their dinner and they are doing great.
Good luck!
By Dianna (Guest Post)
November 16, 2008
0

found this helpful
My husband used to give his labs "Glucosamine". It seemed to help.

November 17, 2008
0

found this helpful
I wish to Thank-You all for your answers! Most helpful.
Yes, Spud will be seeing his Vet, on Tuesday. The office was closed due to a Death. So his temp service made Spud appointment to be accessed for his hips, I guess I should have stated that I was looking for temporary solution for Spud to get him through the week-end until he could see his Vet.
Thank- you all again
Betty & Spud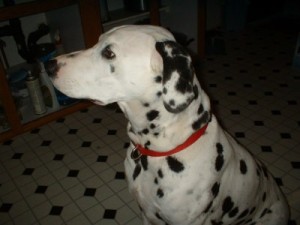 By Susan Hays (Guest Post)
November 18, 2008
0

found this helpful
No, no no...do not give a dog (or cat) ibuprofin!
A coated baby aspirin might be OK, but check with your vet.
My baby's vet suggested coated baby aspirin once in a while for his arthritic hip.
I hope Spud feels better soon.
(Susan from BC)
By BeanTownSteve (Guest Post)
November 18, 2008
0

found this helpful
Check w/Vet but mine has been very understanding since I'm retired and don't have scads of money. My girl has been through a lot including several surgeries. He's got me giving her Ascscriptin (sp?), a Maloxx and aspirin combination, rather than doggie medications. Much cheaper. Also on a glucosamine/chondroitin regimen to relieve her arthritis asnd he came up with the amounts so I could get this from CVS.
Once my Vet spending went way above $3k at a specialist (for her ACL repair) and I said I'm not sure I can continue, he "got it" and has been very helpful and creative in saving some dollars while still coming up with relief.
She's my "girl" and is about 11-12, not sure because she's a rescue. I just love her to death and will NOT allow her to suffer needlessly. As long as she can get along and I can help her along, we'll be together.

November 19, 2008
0

found this helpful
I have heard that this works, here is the name and information you will need. Dr. Frank Cat Dog Spray for Pain 1800-957-1525

November 20, 2008
0

found this helpful
I work with Golden Retriever Rescue (www.grrrand.org) and have fostered many older arthritic dogs. I took some rice, put it in a sock and microwaved it enough to get it warm but not hot. I lay the sock over the hips or whatever area is sore and the dogs catch on really fast that this helps. One of my dogs could pull the sock with his teeth until the heat was over his sorest spot!