I wanted some simple, small decorations for Halloween and fall. I had read an idea in a magazine about making these little salt dough ghosts, so I tried it out.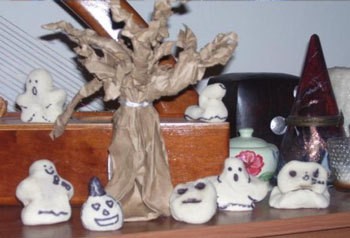 Granted, it didn't look as good as in the magazine, but it provided my 6 year old son and I with something to do for about a half hour and some decorations that (hopefully) can be used again after this year.
Salt Dough Ghosts
1 cup flour
1 cup salt
1/2 cup water
Mix together and separate into 6 parts.
Form into ghosts (or anything else you think is appropriate).
Microwave for 30 seconds at a time until firm. Let cool.
Draw on faces or accents with permanent marker.
Leaf Garlands
I also came up with a cute idea for a little garland - I just found freely available coloring pages of leaves, printed out multiple leaves on each page, colored them, and strung them along some rope that I had for bead stringing. It was another great thing for my son and I to do together.
I know these aren't very grand, but it makes me happy to have home made decorations in my home, and to know I really didn't spend a cent to do it.
(And one more note - ignore all the other stuff on top of my TV!)
By Jackie from Feasterville, PA