You can plant strawberries according to several different systems, each having its own advantages and disadvantages. The hill and matted row system are the two most common methods, while growing strawberries in "jars" and hanging baskets works well for gardeners with limited space.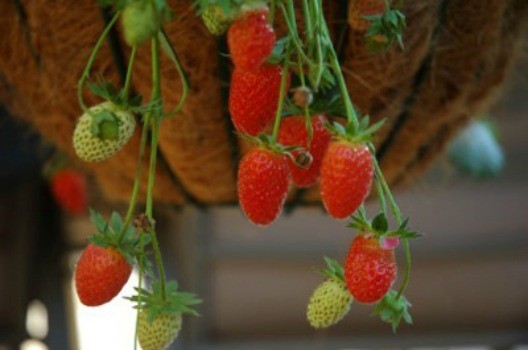 The Hill System
With the hill system, the crowns of the strawberry plants are planted in double rows down the length of a mounded or raised bed. The plants are spaced approximately 12 inches apart, and all of the runners are removed. When properly maintained, a patch of strawberries planted using the hill system can stay productive for as long as 5-7 years, although 3-4 years is more likely.
Advantages: Because the runners are constantly removed, the plants are able to put their energy into producing bigger berries. The strawberry patch also stays productive longer.
Disadvantages: Because you are continuously removing the runners that would form new plants, this system is more labor intensive and requires more plants to start with a greater up-front cost.
Spacing: Set ever-bearing varieties 12 inches apart in a double row (12 to 18 inches between rows). Space day-neutrals slightly closer together: 8-inches apart in a double row, with 12 inches between rows. Overcrowded strawberries create damp conditions that encourage disease. Stagger the plants in the rows to make sure each plant has plenty of room.
Training: Remove all of the runners every few weeks during the growing season. If you prefer, you can peg a few runners into the ground and allow them to form replacement plants.
Best Suited For: Day-neutral and standard ever-bearing varieties that don't produce large numbers of runners.
The Matted Row System
With the matted row system, the crowns are planted spaced farther apart in single rows. The plants are allowed to set runners freely to fill in the spaces between crowns. Plants are spaced approximately 18 inches apart, in rows 3 or more feet apart. Using this system, the runners develop and form additional plants, so your stock increases the second year. Production drops off during the 3rd year, so new plants need to be added to avoid gaps in the harvest.
Advantages: This system requires less labor than the hill system, and requires fewer plants to get started with less up-front cost.
Disadvantages: Because the runners are allowed to set freely, individual berries on each plant tend to be smaller. Replacement plants are necessary to avoid lulls in production.
Spacing: Set new plants 18 inches apart in a single row running down the center of a raised or mounded bed. If you're planting a level plot, leave at least 30 inches between rows.
Training: Allow the plants to set runners in the spaces between crowns and form new plants. During the growing season, keep walking paths free of runners, and remove any that stray more than 18 inches from the rows.
Best Suited For: Varieties that produce lots of runners (June bearers and vigorous standard ever-bearers).
Strawberries in Pots and Hanging Baskets
If you're a gardener with limited space, you might consider growing strawberries in pots or hanging baskets.
Advantages: Plants are off the ground where they are less susceptible to problems from insects and disease.
Disadvantages: Container strawberries mean fewer plants and a smaller crop of berries.
Planting "Strawberry Jars": Although nearly any pot or container will do, "strawberry jars" are attractive, urn-shaped planters (usually made of plastic or terra cotta) with a series of small pockets running along the sides.
To plant them, fill the pot with soil until you reach the lowest level of "pockets" on the sides of the urn. Insert your strawberry plants into the pockets and fill in around them with soil.
After planting the first set of pockets, insert a 1 inch diameter PVC pipe with holes drilled along the sides into the center of the pot (this will be used for watering). Continue to fill the urn with soil and plants until the jar is full.
Planting Hanging Baskets: Use one 12 or 14 inch diameter hanging basket and 4 to 8 plants (any excess growth will readily spill over the sides). Fill the basket with a lightweight potting soil that holds moisture well. Mix in a little compost or other slow release organic fertilizer when planting. Strawberry plants in containers need watering more frequently than those planted in beds, so check moisture levels daily. Hang your basket on a Shepard's hook or use a wall or roof-mounted hook, if your sunny spot is beside the house.
Training: At planting time, remove all visible blooms, runners, and berries that started to develop at the nursery. It's important that all of the plants' energies go into producing strong roots while getting settled in.
Best For: All strawberry varieties. For a harvest that comes all at once (with larger berries), choose June-bearing strawberries. For a continuous crop of smaller berries throughout the season, choose day-neutral varieties. Or you can try a few of both!