By Liz (Guest Post)
June 11, 2008
0

found this helpful
Except for the tomato plants, I believe it's all weeds. The large leaved plants that appear at 1 o'clock (if you look at the pot like a clock) are a common weed. The only plant I'm not sure about is the one with the rounded leaf that appears a couple inches up from 6 o'clock. I believe it's a weed, too, and it's definitely not parsley. I don't see any parsley, unless it's shorter and hidden by the other plants. The tomato plants look nice!
June 11, 2008
0

found this helpful
The bigger leaf plant looks like mint, but I can't be sure. Brake a leaf open and smell it, you'll know if it's mint.
I use to have mint and it tends to take over so be careful if it is.I don't know about the other plants.
June 11, 2008
0

found this helpful
I feel sure enough to say that not a single one of those is a vegetable of any sort. The grass looks like crab grass, the pale, whitish weed is lamb's quarters, and the larger, broadleaf one is some sort of false nettle. I have tons of all of these. It's definitely not a tomato. The weed will be succulent and watery, a tomato would be hairy and smell very strongly (you know the smell of tomato vines!) Honestly, I'd pull everything out, start the seeds again in small cups, wait until they've sprouted, and then plant them in the planter. Hope this helps.
By Leah (Guest Post)
June 12, 2008
0

found this helpful
To me, the larger leafed plant looks like Basil.

June 14, 2008
0

found this helpful
I am in total agreement with Liz that other than the tomato plant(s), they are all weeds. That stuff grows in the cracks of my sidewalks and I pull it out from time to time.
Oh, I was wondering if you washed out the pot you used from last year before planting in it? Those old roots don't need much to grow again, plus it gets rid of other possible, I have to say illnesses as I cannot remember the proper wording, that could have been in the pot from last year.
I thinned out the stuff that appeared to be grass. Here's a close up of the one I believe to be mint? I'm not sure, but it does have some kind of smell when I break off a leaf. Husband said that it's just a smell of a plant, so I'm not sure.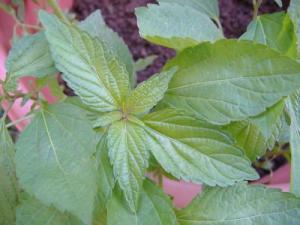 And here's the one that MAY be tomatoes. What do you think?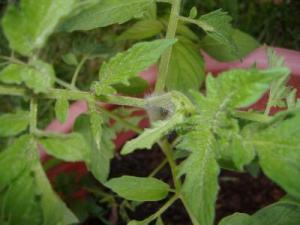 Here's another picture of the one I believe may be tomatoes?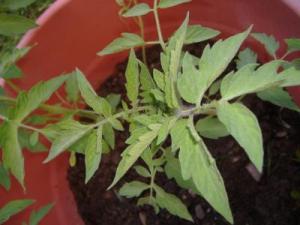 June 21, 2008
0

found this helpful
That is most definte a tomato plant. ( the last 2 posted pics ) Believe me - I have alreay planted 86 tomato plants for the year. I have been gardening for 15 years plus.
Chell
August 2, 2008
0

found this helpful
UPDATE: The one is mint (verified by my mom). Cannot believe it survived the winter!
The others are tomato plants (now they all have large green - soon to be red tomatos on them) and are doing really well. I cannot believe those came up from last years tomatos!
Thank you everyone for your help with this!
Misty