June 13, 2008
0

found this helpful
Have you tried doing dog training classes with her? We have about a 6 month old Chow puppy and she really fixated on me when we first brought her home. My husband took her to "Puppy Kindergarten" and now she tends to follow him unless he is not around. I think it was all the treats.
Dogs really feel the hierarchy of the household. You need to establish that you are the Alpha female, I think. Maybe you can get your husband's help with that. I'm sure that a trainer or your vet might have some good suggestions. She may never love you best but at least it can be more equal.
By (Guest Post)
June 13, 2008
0

found this helpful
To my understanding if the dog is female it will take to the male, if it is a male it will take to the female. I know this seems to be true in our family, we have had several dogs and it seemed to work out this way ALL the time.
June 13, 2008
0

found this helpful
My dog sits in my lap, looks across at my husband minding his own business reading in his recliner, and she jumps down, runs to him and begs to be held! I love it!!!
My last dog was terribly afraid of him for no reason and it really hurt his feelings and worried me. I'm glad my dog loves him. Maybe you can get "his" dog a baby sister so you can have one also!
June 13, 2008
0

found this helpful
I bought my daughter a Shih-tzu female,
I ended up feeding her, rocking her, doing everything for her,
looking out for her, you name it, She goes to bed with my Daughter and gives me those sad eyes, Tries to sneak in bed with us, But when I tell her no, She listens and stays with my daughter, She loves me, Yet Shes turned out to be more my Husbands dog, He use to play fetch and tug of war with her toys, Ultimatly she has adopted him as her main love.
When she was just under a yr old, My husband wanted a shih-tzu of his own. So I bought him a little black one,
For the first week he kept him in his room, feed him, did everything with him. Then one day my husband got in a mood and shoved the puppy out, Said he didn't want it no more, I scooped the puppy up and carried it every where, hugged him, talked to him, Then my husband after a couple weeks decided he wanted him back, It was to late, He was now my dog, followed me everywhere I went, Stood at the bathroom door waiting for me, cried if I took to long, Told me when it was time for us to go to bed, Every time i leave and come back He will cry and talk until I pick him up and hold him.
My husband got peeved about it, But it was his own fault. He never once got annoyed with the little female, yet she wasn't his dog, My husband went to the hospital for 3 weeks, She missed him so bad, never saw a dog hang her head so low as she did, just was not herself till he came home, I think in some cases, It don't really matter what you do, The Dog ultimatly chooses you as there main love or not,
By Debbie (Guest Post)
June 13, 2008
0

found this helpful
Here's one idea; either have hubby get a part-time job, or get rid of hubby...just joking :)
By (Guest Post)
June 13, 2008
0

found this helpful
Dogs tend to pay the most attention to the Alpha in the family. They live by hierarchy, and in your family, she sees your husband as the one she has to please to keep her place in the pack. Certain breeds are less caring of the heirarchy, these are often called "good family dogs." Golden Retrievers, etc..Many breeds are more "one person dogs." There are exceptions, of course, and some of that is in the upbringing.
So your dog is seeing your husband as pack leader, and to dogs there is only one pack leader, male or female. You will not change this. But what you can change is the dog seeing the value in you.
1. Wake up before your husband and be the one to feed, let it out, and spend some quality time with it. Always be the feeder.
2. Carry treats in your pocket. Hold the dog in your lap and pet it, give it treats, while your husband praises it -- good dog. The dog will learn that the alpha likes when it spends time with you.
3. Bring it places with just you in the car on short errands. (Leave husband home). (Of course, not when it's too hot to have a dog in a car). The dog will associate you with its safety each time you return to the car and tell it good dog.
4. Be patient. The pup is young, and eager to ensure its place in the pack. Over time, it may be less uncertain, and will ease up a little on the hierarchy and its fear of not having a key place in the pack.
By Marna (Guest Post)
June 14, 2008
0

found this helpful
Whatever family a dog belongs to is his/her "pack." There's always an alpha dog in the pack; that could be you and the pup is looking at Dad as a litter mate/playmate. That's how it works in our house: I'm the disciplinarian, Dad's the fun one so of course they like him better!
Unfortunately, if hubby's is going to undermine your efforts, there's probably not much you can do except ask him why he's doing that.
But she's young so give her some time. One solution might be for you alone to take her to a puppy obedience class which could make you more "alpha" in the dog's eyes and do your training in short 5-minute sessions when Dad's not around. Good luck.
June 14, 2008
0

found this helpful
Your husband needs to pick the puppy out and bring it home then take care of it until they bond. My husband picked his out and he took care of her for the most part in the beginning so she knew she was his. When I brought my little girl home a year ago we did the same and she is all mine. We both now take care of them and play with them but they still know who they belong too. Training is a good idea too for bonding.
June 14, 2008
0

found this helpful
When my beloved cat died I was heartbroken. My husband had his own cat and I ended up adopting a stray. He took the new cat over right away. I ended up adopting another stray and when he began trying to take that one over I told him he better leave it alone or I'd get ANOTHER one.
He left it alone and Toonces has been all mine for 13 years now. Threaten to get another dog. Actually you may want to go ahead and get another one, but tell hubby if he takes it over you will get ANOTHER one until he allows you to have your own dog! Here is a picture of me and my girl.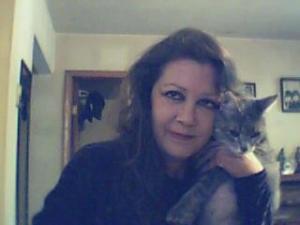 June 19, 2008
0

found this helpful
I have either a malti-poo or shih-poo
that was my mom's (mom passed away last FEB)
and puppy is about 16 months now. I got this dog
for mom she lived with us. He loves me and he still misses her. When mom died we were both with her
and he knew before she passed that it was going to
happen. He and I bonded during the loss of mom.
It took a while but he is so loving and a trusting
little soul.
If I were you I would be the feeder and the treat
person. The way to a dog's heart is the stomach.
I give my doggie carrots and green beans for snacks
which he prefers over store dog snacks.
Vet said that was best carrots and green beans.
Good luck.Her is a photo of my doggie.