May 29, 2010
2

found this helpful
Best Answer
Equal parts sugar and 20 Mule Team Borax in a bottle cap with enough water to mix to a running paste has them lining up. Put it in the ant run--they like edges and shadows. This also seems to work on other creepy-crawlies. I tried it and all problems just disappeared from a 50 year old farm house. It does take a couple of days though.
May 27, 2010
0

found this helpful
One way to get rid of them is to find where they are coming from, and block up the hole with vaseline or caulk. Another way is to put a little black pepper in their paths. This confuses them. Terro is a good store bought ant killer too.
May 27, 2010
0

found this helpful
OK when I was a girl my dad would always take q-tip and then you could find this type of ant poison and you would just get the q-tip in the hole and poison will be on you q-tip. Then put it on your wall where you think the ants will maybe go.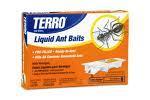 May 28, 2010
0

found this helpful
Karo syrup and about 10% 20 Mule Team Borax warmed for few seconds to dissolve. Squeeze bottle--put solution in cracks, holes or areas where animals cannot eat this solution.
Ants carry it back to nest therefore killing whole colony along with queen. Queens can live up to 20 years and produce many more queens. It takes a few days but wonderful to watch the ants diminish, never to return.
May 28, 2010
0

found this helpful
During ant season March to September
1. Clean surfaces with vinegar.
You can add a couple drops of essential oil or citrus peels to your jug of white vinegar to help with the pungent odor. They hate it. And it removes the pheromone so they can't detect where each other has been.
2. Make sure to take garbage out daily.
3. Sweep and mop with vinegar daily or every other day.
4. Vacuum more than once a week.
5. Don't leave any food, crumbs, or wrappers out because it will attract the critters.
6. Whole cloves repel ants.
7. Eucalyptus plants and essential oil, repel ants and other bugs. They hate it.
8. Make sure all your food is secure, tightly shut in their containers, or in a Ziploc bag, etc.
9. Make sure your cupboards are clean with "no spills, no crumbs", nothing for ants to come after.
10. If leaving any dirty dishes over night, rinse them and keep them overnight in the sink filled with hot soapy water.
Buying a small container of boric acid and placing it where you have seen ants will rid your home of sugar ants, roaches, any unwanted creature like that.
Beware! Boric acid is a poison, so if you have pets, I do not recommend it.


May 28, 2010
1

found this helpful
I put bay leaves on windowsills, in the corners of doorways, etc. to repel ants.
June 3, 2010
0

found this helpful
I've used sweet n low too; just spread it around where you see ants and in a few days they're gone.
But I think I discovered another way to get rid of them. I've been sprinkling powdered meat tenderizer around and haven't seen too many since then. Maybe when they eat it the papain dissolves the ants? Yew. I buy the store brand, of course. You can even buy it at the dollar store.
If anyone else tries it, I'd love to hear if the meat tenderizer worked for you too.
January 4, 2016
0

found this helpful
This will work for indoor ants I use this alot
August 10, 2016
1

found this helpful
I mix equal parts vinegar and water and put in a spray bottle (be sure to label it!!) Ants will not come anywhere near where it has been sprayed. And it is safe around pets, kids, and environment.