October 10, 2007
0

found this helpful
I bought an empty wooden picture frame from a thrift store and then I installed cup hooks around the perimeter of the frame. I hung it by the corner so that it looks like a diamond on my wall. I staggered the cup hook locations. That's where I hang my necklaces.
By lamonts1@gmail.com (Guest Post)
October 11, 2007
0

found this helpful
I have used a man's wooden tie rack that has spindles - they are usually around $12 and work great. Another option is to mount corkboard on the wall and use the plastic tacks with a big head to hang them on, or push the pin part through a hole in the chain.
You could also put earrings in little jewelry bags and hang them on the corkboard with the matching necklace.
By eve. (Guest Post)
October 11, 2007
0

found this helpful
I buy wooden stand cup holder for my necklaces. It has wooden pegs sticking out of the pole on all sides. At the bottom you hang your bracelets.

October 11, 2007
0

found this helpful
This takes a little bit of time, but the final outcome is really cool. It's a great project that a child can help with.
Materials needed:
New picture frames
wire mesh
scissors or wire cutters
some type of thin flexible wire
I bought frames that would hold 2-3 pictures.
You will need to cut the wire mesh to fit into the frame. Take the backing off the frame. Place the mesh in the frame where the pictures would normally be placed. Then replace the backing onto the frame. That will hold the wire mesh in place.
Now,cut a piece of wire, feed it through the hook on the neclace, and now loop in into mesh on the frame. You do this with each neclace and you can do it with some earrings as well. (It won't work with earrings that have a post back) You can put as many neclaces on the frame as you want to. The size of the frame will determine how many neclaces it will hold. I like to use an 8x10 frame. Best to buy when on sale at your local arts and craft stores.
Good luck.....If you have any questions, email me pbailey15@comcast.net

October 11, 2007
0

found this helpful
Depending on how much space u have, I found a piece of moulding I liked at the home decor store and had the length I wanted cut. Added screw-in cup hooks at equal intervals and used construction adhesive to glue to wall. Quite decorative actually.
Did the same with a yardstick to hang scissors, rotary cutters etc. in my craft area as well.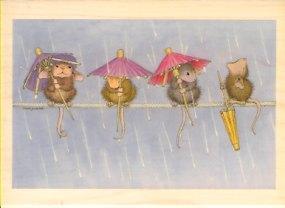 October 11, 2007
0

found this helpful
I got a circular necktie holder at a garage sale for 10 cents a year or so ago. looks good and wotks well
By (Guest Post)
October 11, 2007
0

found this helpful
Hi there, cup hooks work really well.........and for larger one toilet paper roll :)
By Rasta (Guest Post)
October 12, 2007
0

found this helpful
I got a piece of 1X2 from my husbands work shop and painted it the color of the bedroom wall then painted little flowers on it about 1 inch apart and put cup hooks in the center of each flower and used pop top rings for the hangers and hung it on the wall behind the bedroom door. Works fine for me.

December 24, 2007
0

found this helpful
Hi, how about taking a bulletin board and covering it with some nice material, dress it up or down. Buy some clear push pins and hang the neclace's off that you can also hang earrings, etc.
By kim j (Guest Post)
May 12, 2008
0

found this helpful
I bought a pre made circular kinda moulding piece from Home Depot and as a second try, I bought and cut a piece of long moulding. I stained both then tapped in decorative tacks (or upholstery pins). I am not sure how I am going to mount it but I think it will look great. You can even glue on pretty beads or stones over the tack heads.

January 28, 2009
0

found this helpful
Find a beautiful picture frame in a thrift store and on the reverse, nail an amount of wire window screening (not fibreglass) in place to cover the opening fully. Do not replace the backing of the picture frame since it needs to be open to hang the jewellery. Now spray paint the entire thing with gold paint. Add a pretty ribbon at the top, nailing it in place on the reverse and hang it from a pretty hook on the wall. Fish hook earrings can be slipped through the screen to be held firmly.
If the clasp on a necklace or bracelet is of a hook type, it can also be hung by the hook through the screen. A few cup hooks can be placed along the bottom of the frame as well to hold necklaces with other types of clasps and if you do this before you spray paint it it will be of one tone. These jewellery hangers also sell very well at craft fairs!!! Good luck!
By Edith (Guest Post)
January 28, 2009
0

found this helpful
I took a piece of 7-mesh plastic canvas and stitched a backround picture on it . I then took curtain hooks and inbedded them in stratigic spots .upside down, of course. This gave me enough hooks to hang my necklaces from. I stapled it to one wall in my walk-in closet.

January 28, 2009
0

found this helpful
I use a couple of cute key holders they fit neatly behind my handbag cupboard door.

Hello
Bronze Post Medal for All Time! 107 Posts
June 30, 2012
0

found this helpful
I knew of a lady who kept earrings in an ice cube tray! Possibly the same could work for necklaces :D