Kelly Ann Butterbaugh
12

found this helpful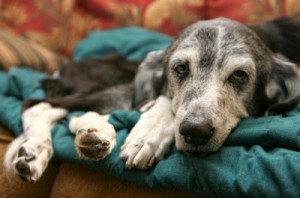 After a recent trip to the vet, we had a tough decision to make: pay exorbitant bills for pain medication for our dog, or take him home and deal with it ourselves. Our pup is well beyond his spry years, equaling a 94-year-old man at this point, and his arthritis is causing problems. After consulting with a few homeopathic friends, some books, and one homeopathic doctor, we found some ways to ease his pain without breaking our budget.
Buy the Book
Every pet owner needs a book that explains basic medical care as well as emergency care. These books are filled with at home tricks for pet care, many that align with basic human care. The most valuable thing about these books is that they explain what over the counter medication is safe for dogs and cats. Treat your pets like children, but remember that they are not humans and their bodies may respond differently to medication. Always check with your vet before administering care, but be prepared for a bit of a battle. Like doctors, not all vets believe in homeopathic medicine, and many are quick to write a prescription.
Medicines to Try
Not being big believers in medications, we found some basic ones that keep our elder pet happy. The first was glucosamine chondroitin. Careful not to purchase any variant of the supplement with additives, we now crush one of these pills into his food each night, and he's shown a great improvement in his agility. Glucosamine aids in joint health and seems to have "greased up" his hips and shoulders a bit. It's not going to heal already damaged joints, but it has made things easier, which at this point in our pet's life is the best we can hope for.
Another staple we keep around is chewable children's aspirin. After reading a dosing chart in our pet medical book and checking with our vet, we keep these "treats" for days that his arthritis really seems to act up. Just like us, when he's hurting we give him his aspirin and lay a hot water bottle against him. Originally, our vet offered us a daily shot that we could administer, but after some research we learned that long term dosing of NSAIDS causes liver or kidney damage. Popular NSAIDS include Etogesic, Rimadyl, Metacam, Zubrin, Deramaxx, and Previcox.
While our furry friend doesn't need it, some pets get overly anxious during storms or during travel. For this children's Benadryl works well. It calms them down and creates the sedative effect of the antihistamine without too many side effects.
Simple Comforts
Simple comforts and common sense are often the best and certainly the cheapest alternatives. Old animals with joint pain need soft places to lay and should avoid environmental shifts. If the barometer suddenly changes, our dog shows signs of stiffness. On damp days we discourage him from sitting on the porch, and we make sure to close the windows at night if it's going to cool down significantly. After coming in from some time in the cold we provide an extra blanket or a hot water bottle for him to keep the aches away. Despite all that we tell him, he's still intent on exploring the yard and guarding it from wild visitors.
Chiropractic Care for Canines
If your pet suffers from joint pain, check with local chiropractors to see if they treat animals. I've watched many dogs enter our chiropractor's office and take the appointment slots before or after me. Hip dysplasia in dogs is much like lumbar misalignment in people, and chiropractic care is a non-invasive way of treating it. According to our doctor, the dogs enjoy their visits and don't react negatively to the adjustment. There are no needles and prodding instruments to fear, only friendly, gentle hands that take away the pain.
Comments
September 9, 2010
0

found this helpful
I am very interested in the books. What are some of the name and authors.
September 9, 2010
0

found this helpful
Careful Glucosamine chondroitin doesn't work on all dogs and or all humans. It does take about 6-8 weeks to work. Out of my two dogs it only worked on one.
And yes you can tell the difference. They do get a little more spry. I do recommend a egg crate or bed made for dogs with joint pain. This seems to help also.
September 9, 2010
0

found this helpful
When my dogs were one and two years of age, I started buying on a daily basis two natural product treats at Walmart called natural Healthy Treats for Dogs (Skin and Coat) and Healthy Treats for Dogs (Hip and Joint) and give as the packages directed.
The hip and joint treats contain glucosamine and chondroitin. The skin and coat treats contain omega 3 and 6 fatty acids. When they see their vet, she says how very healthy they are and their coats really shine. I believe there is something to what you are saying about homeopathic care. However, I would never give my pets any kind of over the counter medication w/o the vet's approval first.
Cocker Spaniels are supposedly to have hip displasia as a problem in later years and I wanted to do all I could to prevent that.
March 6, 2012
0

found this helpful
I have been wondering if that works for myself, and I probably will try those treats with that ingredient in them for my older chihuahua/weenie dog mix. She is a medium size dog, despite her mix with a chihuahua. She is heavy from the Dachshund side and little legs from the Chihuahua side. There is some Mountain Feist somewhere in the mix.
Bless her heart, I will start her on those treats, and when it gets warmer, let her out more, maybe at the lake where she will really explore. I will check into the pills too for her, and check into the dosages. Thanks for a really good post!
Here is a photo of her....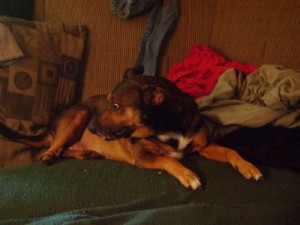 Read More Comments