Our cat Baby was so beautiful. But she was also timid about cameras, and she knew I was a camera "bug." So I was very pleased to catch her in this pose one day. This was shot when she was about 15 years of age. She was "my baby" and faithful companion, and this photo is a tribute to her.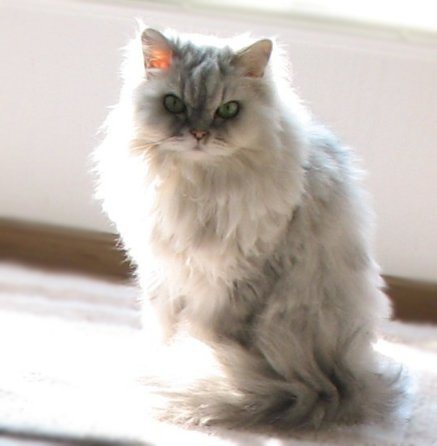 Baby was part of our family from 1993 until she passed away in 2009. I had always wanted a Persian and she was my dream come true when I found her advertised by a local breeder in our area. Baby loved to be anywhere I was around the house. If I was sitting at the computer, she would be beside me, her soft fur touching my feet. If I was watching TV, she would again be touching my feet or sitting in mine or my husband's lap. If I went outside, she would stand at the French doors and watch my every move. She definitely was my faithful companion.
She was always a gentle, sweet, quiet kitty who claimed "me" from the very beginning. She liked to chew on house plants, a big no-no. Sometimes, to give her something green to meet her cravings, I would bring her fresh grass blades to snack on, since she was scared to go outside.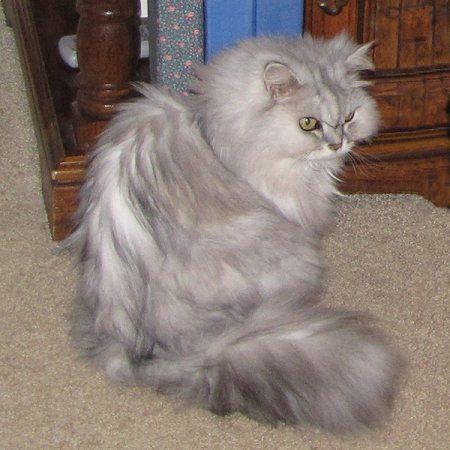 Even at age 16, she still had enough "kitten" in her to swipe at a cat toy and want to play. But if she saw us looking, she was so funny, she would turn away, lift her head high, and slip out of sight. :) She passed away at the animal hospital when her electrolytes got too low after an upper respiratory infection. I miss my Baby!
By Rita