December 7, 2011
0

found this helpful
You learned a very hard lesson. Your dogs surely are lucky that you were home when this happened. I also am unable to work and have had mine go off scaring my 2 dachshunds terribly, although luckily not as badly as yours. Mine just went out the back door (they made sure I knew to let them out) and way out to the back end of the yard. The "tips" say to change them at the same time you change your clocks for daylight savings time. I change my batteries at the start of every new season, spring, summer, fall, winter. The batteries are supposed to last 6 months, I change them after 3, then re-use them in other appliances that won't be as noisy if they die. Also, I use rechargeable batteries in everything in the house EXCEPT the smoke and carbon monoxide detectors. For those I use regular batteries. And I buy a new set the day before changing them too. I don't keep those stocked up for more than 6 months at a time.
December 8, 2011
0

found this helpful
The is really good advice. Something I never though of. Thanks!
December 8, 2011
0

found this helpful
What great advice! I would never have thought of it. I tried hard not to snicker at the picture of all of you in the shower....I failed. Thanks so much for sharing.
December 10, 2011
0

found this helpful
I can just picture how terrified those poor babies were, how sad - although it IS funny to imagine having all of them jump in the shower with you! :D
It's too bad you can't use behavioral conditioning them to not be so afraid of it, especially since it's made them afraid f so many other similar sounds.It's scary to think what would happen to them if you weren't home & the alarm went off - or even worse, if there was an actual fire in the home.
Makes me think of my poor little 3yr old twin grandsons, when my husband & I were over at their house a couple of weeks ago, installing smoke alarms for their mom & dad. My husband accidentally set off the alarm while he was installing it.
The boys, who'd been standing close by watching their Grandpa were absolutely terrified. They threw their hands over their ears & ran for their lives, across the room to mine & their mom's side. One of the boys shakes all over like he's having seizures (he's not) when he's scared or upset. I know it wasn't funny, but as we were gathering them in our arms to console them, I was laughing hysterically.
When my husband got the thing shut off, there were 2 boys standing there glaring at him with accusing eyes & shouting "Boo-boo owie!". Forever more, smoke alarms are going to be called "boo-boo owies" in our family!
But on a serious note, I told my daughter that they really need to work with the boys so they aren't afraid & run hide when they hear that thing go off, so they don't hide if it ever goes off for real!
December 10, 2011
0

found this helpful
I wanted to add something else. You said there's nothing you can do to "undo how they react", but there is. When they hear a truck, siren, or other noise that upsets them, don't react by getting uptight or upset yourself, they pick up on how you feel . Don't rush to immediately console/soothe them - you are only reinforcing to them that this is something they SHOULD worry about, which only creates more anxiety. I know this may not always work, but here are a couple of suggestions on what to do:
Stay calm & try to project that calmness to them. Don't do it by petting them & telling them it's ok, do it by acting as if it's no big deal. At first they will keep looking at you to see how you react, they won't be sure what to do, but by staying calm yourself, they are more likely to eventually calm down themselves.
Or, do what my mom did when her 2 big Queensland mix dogs became so terrified of thunder that they cowered & crawled into her lap like a couple of tiny babies, where she would pet them over & over, telling them that it was ok - they only continued to get worse. When I told her to quit reacting the way she did, they quit being hysterical,but were still pretty upset. Following a suggestion I made, the next time it began to thunder, she started clapping her hands & saying "yaaay! yaaay!", like she was cheering something wonderful, like when they did something good. They looked at her like she'd lost her mind & didn't know what to do the first few times.
Eventually it became quite a game, so that whenever it thunders now, they wait for her to clap her hands & cheer, then they run outside in the rain to chase the thunder! They've even taught my dog to stop being such a weenie about the rain!
August 23, 2012
0

found this helpful
I have a rescued border collie who is terrified of thunder and fireworks etc. She would run and cower under the stairs as far away as she could find to escape the dreadful scary noise. Part of her problem was being beaten and screamed at before we got her also, so she had the emotional anguish to cope with too.
I made a big fuss of the noise in a good way, as one of the posts suggested. Beef jerky comes out (Fave food in the world!) toys, games and all the fun stuff I could think of. I also recorded the next lot of fireworks and played it every day, low volume, for a couple of hours, gradually increasing the volume. This worked really well in de-sensitising her to the sharp noise.
Now she gets startled and a little edgy, but one piece of beef jerky and a game has her back to normal. I feel the problem with your dogs needs to be treated with care, as to DE-sensitise is a good idea, but at the same time use it as an opportunity to train them to leave the house through their doggy door (?) when they hear the beeper going off. The last thing you want is to have them lose their fear of the noise, but stay happily in a burning house if you are not there to shepherd them out.
Good luck,
Vicki, Queensland, Australia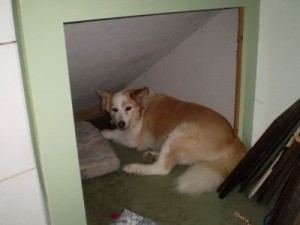 December 28, 2015
0

found this helpful
My dog is an Australian Shepard who totally freaked when my smoke director's battery was dying. It kept doing this chirping noise that really seemed to hurt my dog's ears-we had to leave the house cuz it obviously makes some noise only dog's hear cuz he was still goin crazy after I took the battery out. You have to reset the same thing-run it out without a battery in it by holding that button down. Once it runs out (you'll hear it) then you put in the new battery.
December 14, 2014
0

found this helpful
I know how horrible it is when your pet gets scare of a smoke detector. I was broiling in the Kitchen and the smoke detector went off. My dog a Chihuahua "Tinkie" 13 years old and partially disabled bolted out while I was not looking. I lived in an apartment and it was pouring rain. I looked all over the neighborhood for her for a day and 1/2 and I was sick I would never find her or find her dead somewhere.
I checked the pound and could not find her. I had almost given up when a Veterinarian called and someone had found her running across a four lane highway and fortunately she was not hurt. I made sure never to broil a steak again.
December 12, 2015
0

found this helpful
I'm so sorry this happened to you & your babies. Thank you for caring so much about them! You're an awesome Mom!
February 8, 2016
0

found this helpful
So, are the manufacturers doing anything to solve this issue. My dog has begun freaking out at our smoke alarms. I bought new alarms, same problem. As to why the battery alarm would go off after one month is another story. There must be an alarm maker who makes alarms with less freaky noises.
July 29, 2017
0

found this helpful
I agree. We've been through so many different smoke alarms trying to find ones that don't randomly go off. Not just when the battery is low. Our Jack Russell Terrier becomes completely unglued when they go off. Shuddering and panting heavily for hours. I'm still trying to find an alarm we can trust to not freak our dog out!
February 14, 2016
0

found this helpful
It is a huge issue at my house!!
November 16, 2016
0

found this helpful
My little rat terrier, who is not at all bothered by thunder or fireworks, and thinks popping a plastic bag three feet from her head is an invitation to play, just turned into a little ball of trembling terror from that chirp a smoke alarm battery makes when it dies -- and the smoke alarm was the plug-in type, hidden in my closet. Took me a couple of hours to find it, and in the meantime, I couldn't get her even to eat (and if you know rat terriers, you know how scared she was).
December 11, 2016
0

found this helpful
We weren't home when ours went off. It wasn't the battery - the detector sensor went bad. Our lab was shaking violently. The other detector went off, just one beep, and he jumped behind me and shook violently. I feel horrible!!
December 28, 2016
0

found this helpful
I recently discovered that the low battery beep from smoke detectors drive my poor dog straight outside toward the furthest corner of my yard. It took me a couple of times to put two and two together. Just like in 1st grade. If you notice a low battery warning pay attention to how you dog is reacting to it.