April 20, 2008
0

found this helpful
From what I've seen, I'd take her to class first and ask the trainer. Make friends with everyone in the class and get all their phone numbers for doggie play time after the class is over.
Imagine a tender 3 month old puppy next to a huge (fill in the blank here) dog thinking about a snack. Or just being trampled at the dog park.
Best thing we ever did for socialization was to have our dog play with a friend's dog for short get togethers. Like a play date for kids.
How about taking your puppy to Petsmart or Petco for a quick shopping trip for a new experience?
April 20, 2008
0

found this helpful
Make sure your pup has some vacs before mixing with other dogs.
By Emily california RVT (Guest Post)
April 20, 2008
0

found this helpful
Must be fully vaccinated! That doesn't mean one shot, it means a series of shots, parvo combo, rabies, lepto, bordetella. Your puppy needs to get the recommended shots every 3-4 weeks until your vet says it's good to go, usually through 16 weeks of age.
Parvo is expensive to treat, and heartbreaking to watch a puppy go through. Parvo also can live in the ground for 6 months! Emily RVT
April 21, 2008
0

found this helpful
The dog parks in our area have separate areas for large and small dogs. Your puppy should be fine if your park has a small dog area and you keep an eye on him. Also, I second the opinion that you should make sure he's had his vaccinations first. You'll need to do this before puppy class anyway. Most of all, enjoy the time you have together!
By bonnie (Guest Post)
April 21, 2008
0

found this helpful
Yes, take your puppy to the dog park. She will like it. I can't take my German Shepard, as that she is too aggressive. I walk her along the outside of our parks.
But I get jealous of all the other dogs that can be in the same park without a leash on. And enjoying every other dog. I wish they had these parks available when I got my dog. Good luck.
By Oberhund (Guest Post)
April 21, 2008
0

found this helpful
First off, take care of all the puppy's shots and don't take her anywhere another dog may have gone until her shots are up to date. I'd even keep her away from the shoes you and your family have worn outside, just to be safe.
Until then, socialize her to as many new experiences, people, places, and objects you can, but do this in a gentle, unemotional, non-traumatic way. Be a good role model and don't react to new things -- and don't encourage any fearful or aggressive reactions in her by petting her or talking to her. Touch her, speak to her, and give her attention ONLY when she is showing that she is confident and unconcerned about any new experience. The biggest mistake people make with their dogs is petting them or speaking to them in a soothing voice to try to calm them when they are afraid. A dog sees this as praise for her behaviour and thinks that the strange thing should be feared and that her leader is approving her lack of confidence. It's hard to do, but the best thing is to ignore your dog's fearful reactions and act as if there is nothing out of the ordinary. Do not become upset. Do not touch your dog until she is confident. Do not talk to her in a soft, soothing voice, or even at all, until she is confident. You shouldn't even look at her, if you can help it. Ignore her until she shows confident behvaviour. NOTE: you should be sensitive enough to introduce things slowly and in small increments to build up her confidence.
If she reacts badly to a stimulus, then reintroduce it later, when she is in a calm, confident state, and do so in a minimal way (i.e. far distance, short time, low volume, etc.) and increase VERY slowly only when she is ready.
While you wait for the proper time to visit the dog park, you can work on simple things to build her confidence and your confidence in her: simple things like the recall, walking on a leash in the house, the sit, the stay, the down, etc. Keep the training short, fun, and full of success!
You should also read up on the different stages of puppies and fear periods -- there are different stages where if something traumatic happens at that age range, it could cause psychological damage that will affect her for the rest of her life.
Oh, and when you do take her to the dog park, don't try to pick her up if a big dog comes over to her. Just let them communicate naturally and if you are concerned, just stand over her, showing both dogs with your body language that you are confident and that you are the leader of your dog. The other dog will get the hint. Now, if the other dog is not socialized well, there may be issues, but I've rarely seen this at dog parks. Generally, problems arise between dogs when people get involved or when one dog is on leash or when someone has carelessly brought a toy.
By Annabelle (Guest Post)
April 22, 2008
0

found this helpful
Dog Parks are very safe for puppies I recommend them, however I do suggest you get your dog up to date on all of its vaccines. Have a fun time with your new puppy Best of Wishes!!
April 25, 2008
0

found this helpful
My dogs go to the dog park every day. We have a large off leash area for large dogs (my german shepherd and white Alaskan husky) and a large area for small dogs under 25 lbs. We don't allow dogs in the park until they are 4 months old and have all their shots and license. And everyone picks up after their own dog.
We don't usually have a problem with aggressive dogs because the dogs really enjoy playing with each other. Every now and then one gets a little out of hand, but we don't have a problem with fights. The owners watch their animals very well.
My dogs love the dog park and they know when it's time to go. They have me well trained.
By Debby (Guest Post)
May 28, 2008
0

found this helpful
I would never take my dogs to a dog park! There's too much danger there. People do not pay enough attention to their dogs. They are too busy talking to other owners or on their cell phones. I'd suggest a public park where you can walk your dog on a leash. There, all dogs are required to be on leash. So, you have control of your dog and other people have control of theirs.
And, your dog learns that you are the one calling the shots when he's on a leash. That goes a long way toward establishing yourself as the leader. Also, I'd wait until at least 6 months of age before taking your dog out in public even in your own neighborhood. Parvo is a serious threat before that age.
December 8, 2016
0

found this helpful
No, you just need to watch your own dogs. If you do, no matter what, you can intervene
By jim mitchell (Guest Post)
June 22, 2008
0

found this helpful
Dogs look after business on their own usually. They know their place (not a politically correct phrase is it) with other dogs or quickly learn it.
Problems usually arise when someone picks up a small dog, or a small dog who does not know its place (poorly socialized) makes aggressive moves towards a big dog. In this case I say it is not the dogs fault but the poorly trained owner. It is however the big dog who gets the blame and the poor owner of the small dog gets all the press about how their dog was just ATTACKED. Usually they attack a picture of the poor injured dog in the persons arms. Probably the start of the whole thing in the beginning... HMMM> I digress. Yes, take your dog to the dog park as soon as it has had all its shots and is fully immunized.
By Renee (Guest Post)
July 9, 2008
0

found this helpful
I am part of FIDO here in Fresno who has opened 3 off-leash dog parks. Your puppy needs to have all its shots and licenses before you bring it to the park. So the minimum age is about 16-18 weeks. The reason this is, is Parvo lives on the ground for YEARS not months, like mentioned above. Parvo lives in carpet for 12 years, give or take. Speak with your vet.
Also with a puppy, it is very hard to control their behavior until you have bonded with the dog and learned it's language. I recommend as a puppy to take it to the small part of the dog section for the first couple of times, until you can see how he/she interacts with other dogs. Bigger dogs usually don't understand they are bigger dogs and rough house alot more then little dogs or puppies. And that can lead to undue harm.
I say just be careful and a responsible owner. Go to the park when all your shots are up to date and HAVE FUN!!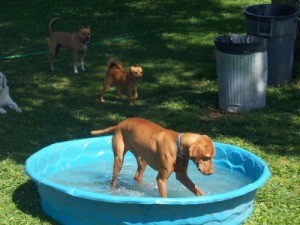 September 1, 2009
0

found this helpful
Dog parks for adult dogs are not safe for puppies. First, puppies are not well socialized which is a criteria usually required to enroll in a private dog park. Puppies have not learned dog behavior rules that adult dogs know and live by. They can and do break the rules and get nailed by an adult dog. They can be seriously hurt and require vet care. Puppies are typically small and do get run over and rolled by bigger, older dogs which may cause injury (e.g., ACL injury).
Puppies, usually small, but not always, can fit through the spaces in wire fencing used by some dog parks. The adult dogs run, play 'catch me if you can,' play 'chase,' play 'fetch,' and play other fast moving games with each other and their owners. Your dog could get hurt. On the other hand, dog parks with special areas for small dogs and areas for puppies may be safer than the areas for adult dogs. Other ways to socialize your dog include puppy classes, puppy play dates, walks in various places/locations.
January 10, 2010
0

found this helpful
I've heard good and bad about dog parks. Personally I wouldn't think of taking my dogs to one. For several reasons.
1. There is no way of telling what the other dogs have been exposed to, or what they are bringing with them as far as diseases or infestations.
2. Just like people, you can never tell whether dogs will get along. Your dog may be extremely well behaved and laid back normally, but there may be just one dog at the park that yours just flat does not like. And once trouble starts between two, it invariably brings in the rest of the dogs.
Or it could be the other way around. Someone else's normally well behaved dog takes a dislike to another dog, for no visible reason.
I prefer to keep my dogs at home and play with them myself. My dogs have plenty of things in their own fenced yard to keep them happy. And safe.