Training a Dog to Not Poop Inside
We adopted an 18 month old Cocker Spaniel around 3 months ago. She goes all night with no problems and in the morning she does her business fairly quickly. We take her out a least 6 times a day and we walk her around a mile every day. She seems to poop around 3 or 4 times a day. Is that a problem? She does poop in the living room a least once every day or two. Can anyone help?
By Michael from Media, PA
Add your voice! Click below to answer. ThriftyFun is powered by your wisdom!
February 18, 2011
0

found this helpful
Best Answer
Is she doing her business the same time daily? If so, take her outdoors and walk her awhile at the time. You might get lucky and she'll emliminate outdoors. Also, she's used to the carpet and there may be hidden residue that keeps drawing her to the carpet. Watch her closely as she circles around the room deciding where to drop her bomb. Then take her outdoors at this point.
February 21, 2011
0

found this helpful
Best Answer
Try collecting some poop & placing it in an area of your garden that you want her to do it. Leave it there until she gets the message, take her out to that spot each time you take her outdoors, often dogs poop just after eating a big meal for the day & in the mornings.
Cleanse carpet totally so that no smells linger of previous mess. Steam clean or use baking soda mixed with white vinegar & water, not disinfectant as this has ammonia in it which smells like urine to them & will continue to attract the dog to that spot. Good luck.
February 21, 2011
0

found this helpful
Make sure you have her on a dry dog food, not canned food. It helps make the wasted more dense and thus less poop.
Add your voice! Click below to answer. ThriftyFun is powered by your wisdom!
I recently rescued a 2.5 year old Shih Tzu who had been used for breeding. She is lovely and has settled in well with my 4 year old miniature Schnauzer. I take them out for long walks every day, morning and early evening. I also leave the patio door open most of the day, weather permitting. One of them is pooping every night in the house.
I have started feeding them early in the day and then nothing, but a couple of treats which sometimes works, but not always. I end up telling them both off as I dont know which one it is. How can I find out which one it is and what do I do about it? I would appreciate any advice.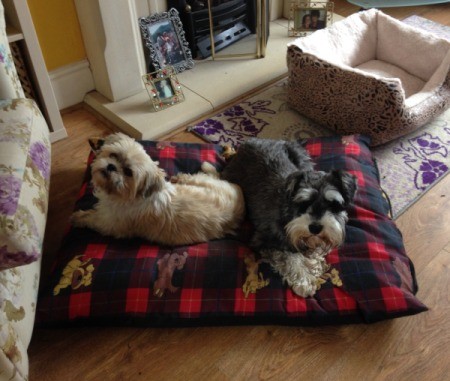 Answers
February 27, 2017
0

found this helpful
The fact that she is a rescue who was seemingly in a bad situation makes this a difficult case.
The only way to fix this is to catch her in the act, and with a firm but gentle voice startle her out of it (such as by saying NO!) and then quickly take her to the pad where you want her to defecate.
When she successfully completes the poo, give her praise and a treat.
You must really be vigilant, though. Scolding them after the fact is not only useless but kind of harmful. They can tell you're displeased and don't really know why because dogs are very much in-the-moment creatures. You need to basically spy on them for a whole day to figure out who's doing it, and then proceed accordingly.
February 28, 2017
0

found this helpful
Why don't you borrow a video babycam from someone? You will find out very quickly who the culprit is and crate it at night until it is retrained.
Answer

this Question

...
Advertisement