February 10, 2010
0

found this helpful
Awwww, she's so sweet! I have a maroon-bellied Conure, and I dearly treasure that bird. Conures are a wonderful choice for a first bird, they are so out-going and friendly; they make great pets. It's awesome how smart birds are, and how they so quickly become members of the family.
Just don't do what I did, and decide that one bird is so much fun, that you should get another; I wound up with three Cockatoos, one African Grey, one Masked Indian-Ringneck, and my little Connor, the Conure. I feel spread a bit too thin sometimes, trying to give them all quality time with "Mom", LOL. Blessings to you, and your little feathered friend. :)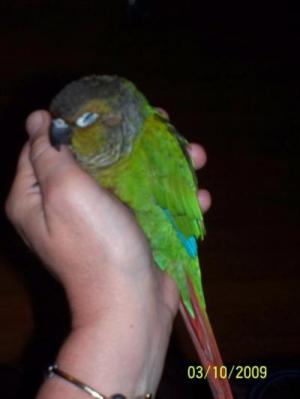 March 2, 2010
0

found this helpful
Yeah we found out about bird addiction too late. Our apartment now homes a finch aviary, 2 parakeets, an African Grey, and of course, Dizzy.
I love them all so much.