February 24, 2011
0

found this helpful
For instance, I made these beads out of paper and glue and strung them to make a necklace.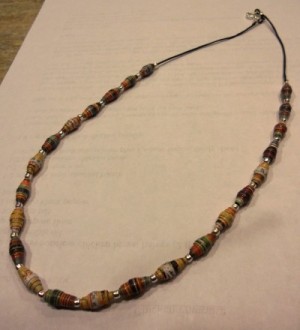 February 24, 2011
0

found this helpful
I once saw a pillow for the sofa made out of neck ties. It used the long thin portion of the tie and weaved them like a lattice work. Made a cool retro looking pillow. I have seen on the web several places that have patterns for the "Bra Purse" but really think it is kind of odd.
Then there is of course the sweatshirt pillow cover, and the sweater pillow cover. Sew up the openings and stuff it with a pillow, and do away with the sleeves or use them as holders for plastic shopping bags. Real wool clothing can be unwoven (not sure how) and reused for felting projects, new clothing, etc. and I am sure you could find web pages for those. I look at etsy.com when I need some ideas.

February 24, 2011
0

found this helpful
Oh and I forgot one! Jeans pockets make some seriously cute girls hand bags when sewn together and use a belt for the handle. Or use a pocket to adore the handbags you make out of the leg of the pants.
If I use denim in a project I usually cut small slits on the edge of the piece, like fringe. When you wash it after you are done it makes a really cute curly edge to the piece.

February 24, 2011
0

found this helpful
I'm not only looking for clothing ideas, but all ideas. Cans, containers, bottles, paper, anything that can be refashioned or repurposed into something new. Thanks!

March 2, 2011
0

found this helpful
Instructables.com has lots of that kind of thing. Have fun!

March 2, 2011
0

found this helpful
Here's a couple of my favorites, besides my #1 favorites, which happen to be Thrifty Fun & Instructables!
Here's a tshirt tote bag, & if you go to the home page of this website & look under 'Green Crafting',there are a lot of things - www.favecrafts.com/.../Groovy-T-Shirt-Tote-From-Earth-Safe...
And this site has some of the best sewing ideas & things to do with your old clothes! www.allfreesewing.com/Refashioning-and-Upcycling

cettina
Bronze Request Medal for All Time! 64 Requests
March 3, 2011
0

found this helpful
Rag rugs! they can be knitted, crocheted, or just braided. I make mine from old tshirts and they are so hard wearing and pretty!

June 28, 2011
0

found this helpful
My fav recycle from a T shirt, is cutting the sleeve out of the Tshirt, right at the arm seam and you have an immediate cute little head covering with no sewing involved. You can embellish it or cut slits in around it and pull through a piece of the bottom band of the shirt for a tie.
I have several and my SIL loves them so I made her a couple. It sounds crazy but they look really finished if you cut neatly next to the arm seam. Have fun.