Maggie laying down, being sneaky, she's not allowed on the couch, and she got caught.
I thought it was cute of her.
She is about 9 years old. Not sure of her breed or mix. I got her about four years ago,
A Lady had her in the car and pulled into my parents trailer park, opened her door and told her to get out, My sister told me about her and brought her to me, I have had her since, and I don't think it is right to treat any animal this way, but I sure do Love my Maggie and glad she has a good home now with my family.
My dog likes to chase the kids in the yard, and watches over them. She likes to wrestle with us too.
By Belinda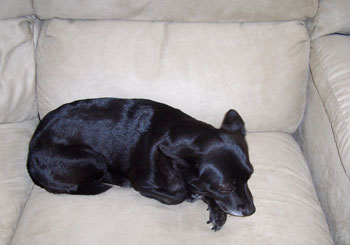 By Belinda