I think I remember reading some time back about someone feeding their dog something to keep a yeast infection in the ears from returning. If I remember right it was plain yogurt. But I don't remember if it was just on the spoon for the dog to lick off or actually put on the food. I know it was not too long ago that I read it. Within the last 6mos I believe.
I want to know if it could help a cat. My 6yr old tom has a continuous battle with yeast infections in the ears. I would rather use some kind of home remedy rather than prescription meds to keep it under control. Thank you.
Have a purrfect day.
By Sharon from Mackinaw, IL
Add your voice! Click below to answer. ThriftyFun is powered by your wisdom!

(Guest)
Gold Post Medal for All Time! 846 Posts
September 20, 2010
0

found this helpful
I honestly don't know, but I can't see where it would hurt to try as long as it's yogurt without commercially added sugar flavoring and not more than a teaspoon a day. My kitty girl used to have problems with throwing up fur balls, but once I started giving her a teaspoon of cream cheese or sour cream or yogurt every morning, she has not had a single problem. So I am thinking yogurt wouldn't be harmful to try and just might keep the yeast under control as it does for we humans.

Beth
Silver Feedback Medal for All Time! 407 Feedbacks
September 21, 2010
0

found this helpful
I believe you want to actually swab the ears with the yogurt. It might help if she eats it too, but actually applying it will work much faster. Just swab it in though, don't spoon it in!
Add your voice! Click below to answer. ThriftyFun is powered by your wisdom!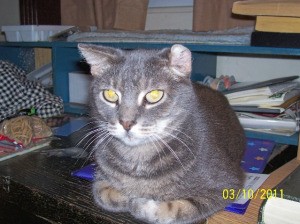 Some time ago, I read that you can give your cat or dog small amounts of yogurt to help control yeast infections on the ears. I read it should be plain, but I cannot find small containers of plain yogurt in my local supermarket. Is there any other flavor that would work as well? I only have 1 cat to use it on and probably would not use it for anything else, so it would spoil before using it all.
By Sharon
Answers

June 13, 2011
0

found this helpful
I don't know if you live in a really small town or have limited access to supermarkets, but surely ONE supermarket in your area has plain yogurt. Granted, there isn't much of it in most stores, but at least some groceries carry it. Walmart has plain yogurt. And health food stores carry it, although it tends to be expensive. As a last resort, you could consider making it. It isn't too hard to do. Probably you need yogurt with cultures in it, that is even harder to come by in regular stores.

June 14, 2011
0

found this helpful
You can take what is left of the yogurt and mix in some peanut butter or leave it plain and freeze it in ice cube trays. Makes a great treat in the summer time.

June 14, 2011
0

found this helpful
Have you thought of taking out what you expect to use for the cat, mix some fruit and a bit of sugar, or sugar substitute, into the rest, and eat it. It really is very good, and good for you. Loretta from Theodore, AL

Julia
Bronze Post Medal for All Time! 146 Posts
June 14, 2011
0

found this helpful
Did you know that you can use plain yogurt pretty much as you'd use sour cream on baked potato, in mashed potatoes along with butter, salt and pepper, and to make the best fruit smoothies you ever tasted.
The largest size we can buy is a quart I think, (maybe it's a little less than a quart) and I use plain yogurt to make great Ranch Dressing (just add one of the dry packets of Ranch Dressing to 16 ounces of plain yogurt), and it'll keep for a good week in the refrigerator.
It makes a wonderful cooling facial mask for hot summer days, and if the baby has heat rash, pat some directly on the rash.
Hope this helps you. Your kitty deserves to feel better too, and maybe you won't have to waste any at all if these suggestions sound good to you.
Pookarina
Read More

Answers