October 24, 2006
0

found this helpful
Yes Beta fish are extremely territorial. Don't put them in the same tank! They are also cannibals and will eat their own kind. In the wild they live in separate pockets in corals their whole life seldom coming into contact with any other Beta fish. The way they multiply is like this the female lays the eggs in one place the Beta males all fight for the right to contribute to the eggs. The one left standing and alive is the one that spawns the future fish. Another pocket is set aside for the mother fish. The eggs mature on their own and never come into contact with the mother fish ever again in their life. One fish per tank sorry!
Good luck.
By debbie in sc (Guest Post)
October 24, 2006
0

found this helpful
yes, beta fish will attack, fight and kill even larger fish. they should not be placed in a tank with slower moving fish or the slower swimming fish will starve b/c the beta will be too quick and eat all the food. they should also be the only beta in a tank as they will fight each other.
they're in the goldfish catagory, very hearty, but very dirty. they like cooler temperatures than tropicals. they also will jump right out of the tank if you don't have a lid. i lost one that way. very pretty though. if you hold up a mirror they'll get all agitated at their reflection b/c they think it's another beta.
By Connie A. (Guest Post)
October 25, 2006
0

found this helpful
When we were at the pet store they had two glass fish bowls sitting side by side each with a beta in it. They were fighting , charging to the glass at each other. They weren't even in the same tank but were still trying to get to the other one. They like a hermit life style. lol
By Michelle (Guest Post)
October 25, 2006
0

found this helpful
Male Beta fish will fight and kill other male Beta fish and will do so wih female Beta fish after they are done breeding with them BUT they are fine with other fish that are NOT agressive. If a Beta fish is placed with another type of fish with aggressive tendencies (such as a gourami) they will actually attack the Beta!
They will tear at the Beta's fins, chase him and ultimately kill him.
I had Beta's off and on for years and have had them both solitary and also in an aquarium with other docile fish....both scenarios worked fine.
Good luck!!!
By Susan from Hamilton (Guest Post)
October 25, 2006
0

found this helpful
I have one female beta (red) in with fancy guppys and they all seem to get along fine.
I was trying to find out out guppys breed, but they don't seem to need instructions, I noticed there are several strings with eyes lol
By Doug (Guest Post)
October 1, 2007
0

found this helpful
I have two in one tank, purchased them for my kids. We noticed that the dark female is kicking fin on the pale female. The pale female is hiding and cannot get any food. Obviously we have to remove them but why the heck did the pet store tell me that two females in one tank is simply not a problem?
By tab (Guest Post)
October 29, 2007
0

found this helpful
To debbi in sc: beta hate cooler temperatures actually... because they ARE tropical fish. They flourish in warm water. They're fairly clean fish. There aren't any fish who compare as far as filth when you're talking about goldfish. And to the dad who had two female betas: The petstore told me that too. But I only purchased one beta female.
I put a mirror up to the glass and at first I got no response- but then her little gill flaps fanned out and she was ready to attack. I think it just depends on the fish. A woman I know had a beta for years in a tank with several goldfish mollies. Apparently he knew he was the prettiest in the tank. Lol. This is winter- she makes a terrific roommate at school.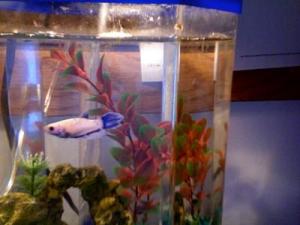 By T (Guest Post)
December 12, 2007
0

found this helpful
I thought my blue beta was aggressive until i got a purple one. The color doesn't seem to contribute to the agrressiveness at all. It was funny though - they fan their tails up every time they see each other in separate tanks. The purple one actually chases my large white goldfish during water changes (they are not kept together) - because both fish are very aggressive.
The white goldish use to boss everyone around until he met purple beta. Now, Tanker (my large white golfish) runs away from Hunter (purple beta) - it's so cool! I think Beta's are fascinating and very beautiful for fresh water fish. They also seem to have a sarcastic personality - like - my owner is such an idiot and they just stare at you. I really think they are a great fish.