I think I am frugal, my grandkids think I am cheap. I live alone in south Florida so saving on my power is very important. I NEVER shut my a/c off. It takes less than 20 minutes for my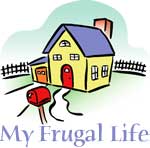 hot water heater to furnish enough water for me to do my dishes, shower and whatever other small hot water projects I may have. After I use all the water that I need, I go to the circuit breaker and shut off the switch for the hot water. When I leave my bedroom for the day, I reach up and SHUT the vents. I also shut the a/c vents in the rooms that I do not use in the day. The cool air is forced into the rooms with the open vents (least resistance), which happens to be my kitchen, dining room and living room.
By not running the hot water heater all day, there is less work for the a/c to do. Also I run the ceiling fans ONLY in the rooms where I am present. I save about $7.00 a month on each ceiling fan. These two measures have cut my power bill in half.
I change my bed linens once every two weeks instead of every week. I sleep on one side off my queen side bed for a week, then I move to the other side! This saves me on laundry.
Jeannette from W. Palm Beach, FL
Do you have a frugal story to share with the ThriftyFun community? Submit your essay here: http://www.thriftyfun.com/post_myfrugallife.ldml