August 12, 2009
0

found this helpful
If your family have particular tastes or collections, why not seperate like things and let them all come for a big party. If they are scattered, take a photo of each one and email it to them. If they want it, great. If they don't, email the next person in line, etc. Once everyone has chosen what they want, put these aside, have an estate sale, and with that money, you can send the others their treasures (if they can't send for them) and have enough left over for yourself. You did do all the work, after all.
Keep in mind that your parents most likely left you the house and belonging because they trusted you to care for their memories and do the right things with them. I would take more digital photos than could choke a horse, make some shadow boxes for you to keep, and let their heirlooms become the next generations treasures.
NOTE: Be prepared for those who don't want anything, or those who might be upset with how you are handling things. Grief is personal. Don't take their reactions that way.
Good luck. PBP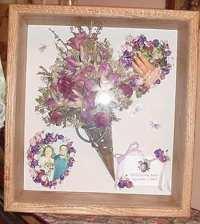 August 12, 2009
0

found this helpful
Hello,
I understand how difficult this can be. I helped my dad go through his mother's house- it was extremely packed as she had not moved in 50+ years. His method was the same one my grandfather used successfully with my great grandparents estate. Basically, my dad got his 4 siblings together and they would go from room to room selecting what they wanted. Cabinets were opened, but no other prep needed to be done. They each had their own color of stickers (yard sale stickers) that I would place on the item my aunt/uncle/dad selected. In one room the oldest would go first, then the 2nd oldest and so forth.
In the next room the 2nd oldest went first, then the 3rd and so forth. When they had selected everything they wanted the house was opened up to my cousins (the grandkids). The house was gone through in one day, the garage the next day. People knew that for large items they had two weeks to get it out, but for smaller items they were expected to remove them that weekend. It went so smoothly and people got what they wanted. Plus, my dad was done with the 'stuff' in 2 weeks! Hope this method helps someone and good luck!

August 12, 2009
0

found this helpful
If more than one person wants the same item then make it fair and put their names in a hat and have a draw.

August 14, 2009
0

found this helpful
I am crazy about amh82 s way of dealing with the "stuff". My husband, (not my 7 kids father, who is deceased) and I, have made our wills, but there is always that "stuff" that family members will claim was promised to them, etc., So the idea of going by age in a room, then letting each one rotate being first is genius.
This is our next project to make clear with our executor, (my youngest son). I even think he will feel relieved with that idea. Each special thing has already been passed on to them, as in a well over 100 year old cradle, old steamer trunks, etc.This will be for the dishes, etc.

(Guest)
Gold Post Medal for All Time! 846 Posts
August 14, 2009
0

found this helpful
First, I am sorry for the loss of your parents!
I too love AMH82's ideas. Was also going to suggest the same thing as lorainna :-)
My only other advice is, if you haven't done so already, is to make sure you have absolutely removed everything you want to keep before the day(s) others come in. I say this because even though everything was left to you, well people are people and some might feel hurt if you tell them they can't have an item because you want it. Out of sight is out of mind and I think doing this will help keep someone from having bad/hurt feelings.
Oh, be sure whatever is left is given to The Salvation Army. They come and pick it up and it creates jobs, they give items to the needy and they are able to raise funds through their thrift stores.
Good luck and please come back and share how everything fairs for you!
Wait, I am going to add one more thing. Once everyone has gathered and before you all begin I think it would be nice for everyone to join hands for a prayer and special thanks for all the memories and love from dad, mom, and all who went before.

Dena Roberts
Bronze Feedback Medal for All Time! 102 Feedbacks
August 14, 2009
0

found this helpful
AMH82 has great ideas. That's what we did when my Mom passed on, worked great and no fighting over stuff.

August 14, 2009
0

found this helpful
Thanks for the wonderful ideas. I will try to get everything ready for next month when my nephew comes in from the east coast!

August 17, 2009
0

found this helpful
First, my condolences on your loss. Losing a parent is painful at any age. As for the distribution of your parents' estate. In this electronic age, the in-person approach might not be practical for everyone. However, this suggestion might work, if there's a complete inventory in any form:
Send the inventory list around, either via email or snail mail.
f the inventory isn't already in electronic format, it isn't too difficult to scan to a .txt document. Let each person request wanted items by placing their initials on the page next to the item they want. For multiple requests, the "raffle" idea sounds good. Again, my sympathies. God bless.