By Kathy (Guest Post)
April 24, 2005
0

found this helpful
I would go ahead and see if the mother would want to eat any bread. I know when I had my ducks, they would eat bread and just loved it. I would just break the bread up into bite size pieces and toss them near her. I wish I could help you more but that is all of the information I can give to you. You can probably call a vet and get some advice also on how to handle the mother and soon to be babies.
April 24, 2005
0

found this helpful
Hello, sounds like you are going to have babies. I have a pond which attracks lots of nesting mamas. Do not feed them bread. It causes the stomach to expands and it can cause major issues when using the bathroom. They can even die because they cannot pass their fecuses.
Then you have an even bigger issue of raising babies without a mama. I strongly suggest that you go to a local feed or grain store and purchase "duck food." It is a grain mixture that is more acceptable to their system. It is not expensive. Good luck and enjoy the babies.
April 27, 2005
0

found this helpful
Try not to disturb your sitting visitor. Too much attention could lead to the mother abandoning her nest. Dont worry about her eating or what she'll do when the eggs hatch. She knows what to do!
c.j.cox
April 9, 2016
0

found this helpful
i have a mother duck that laid 11 eggs under a bush beside my steps going up to the house. it is right beside where i come into the house. one fell down and i took a cloth and put it back in with the rest. they r right at the edge will she leave them shes there thou everyday i saw her this am watching the snow come down. her little head peaking out
By Carmen (Guest Post)
May 4, 2005
0

found this helpful
Hi... I was raised on a farm in a rural area in Missouri... your best bet is to leave Momma alone. You might make some cracked corn, bird seed, or even a few scraps from your kitchen available to her. Just scatter them out in your yard. And maybe a large bowl of water. She will only leave the nest a time or two per day to get food and water then go back immediately to keep her eggs warm.
Just try to disturb her as little as possible. She will set on these eggs approximately a month before they hatch. You might call the conservation department of your state also, they could give you some tips I'm sure. Good Luck!
By Marie (Guest Post)
April 22, 2006
0

found this helpful
Every Year A Male And Female Mallard Return To My Covered Pool...This morning i discovered a lone egg on the concrete and momma seemed to show 0 intrest i put it in a basket of rabbit hay and bedding for warmth,i t remains outside though. What Should I Do?
Editor's Note: The egg may not be fertile. I'd just leave it where it is and see if she comes back to sit on it.
By Grace (Guest Post)
July 6, 2006
0

found this helpful
We give our ducks about 3-4 cups of cracked corn a day, around sometime in the morning. But by the six o-clock they seem STARVED. They have they're beaks poking through the holes of the fence and quaking there beaks off.
I go and get them some more corn and they chase me all the way to the food buckets and wrestle each other for the food! There are nine ducks and I am wondering if we need to feed them more or is this a normal reaction?
January 24, 2010
0

found this helpful
Call your local humane society so they can direct you to a wildlife organization. I would put a large box with and opening facing the opposite way the wind is coming in. Then lay a stone on top to prevent the wind from knocking it over, throw her toasted bread in there and if you can a bowl of water very close by. Do all of this until you can get help for her. Deby
May 18, 2012
0

found this helpful
Birds and Blooms Magazine says to just leave wild birds alone. Like one person said, they know what to do. You are lucky to have her where you can watch easily. Try not to worry. If she had made her nest about 50 yards away you may never have noticed her and not worried at all.
If you want to be helpful put a bowl of water nearby and scatter a bit of "duck food" from a feed store. This means that she won't have to actually hunt for food too much. But it is good for her to search for food some, as this causes her to stretch a bit. And just like humans they need their daily exercize! ^_^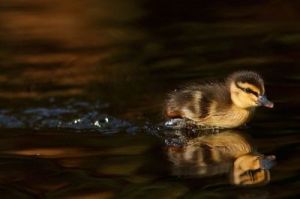 July 27, 2017
0

found this helpful
I have a duck who is laying on 15 eggs in my flowerbed in Florida, I am feeding her bread soaked in milk and water everyday , she seems to like it and eats it everyday
July 27, 2017
0

found this helpful
I have a duck who is laying on 15 eggs in my flowerbed in Florida, I am feeding her bread soaked in milk and water everyday , she seems to like it and eats it everyday