BFFF? Yup, best frugal friends forever. These days, particularly in Michigan, frugality isn't just a chosen lifestyle, it's true survival! I'm over 60, disabled, widowed, with abso-posi-lutely no family; therefore, there's no one I can call upon in a pinch for an extra few dollars.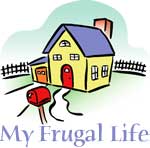 In 2001, I'd been diagnosed with four potentially fatal conditions and been given 3 to 5 years to live. There's an old joke: I have enough money to last me the rest of my life - providing I die next week. That's true! When, in '06, I was driven into bankruptcy by medical bills, it was the 5th year since the diagnosis. So I had had enough money to last me the rest of my life, only I didn't die! Uh-oh.
Over time, I've developed many strategies for keeping up, including taking in laundry. Seriously. I do the towels for a local groomer. Twenty cents each. Hey, it keeps food on the table, so don't laugh!
I don't like to go to food and clothing centers, except to donate, because there are many others that are far worse off than I am. They have families, I don't. They need clothes to go to work and school. I don't. It's not pride. It's a matter of prioritizing. So here are a few of the strategies I use to keep the outflow manageable.
My electric and gas companies both have budget payment plans. I pay the same rate every month, summer and winter, and don't have to worry about them shutting off the juice.
I don't buy a Sunday paper. I share with my neighbor. She cuts out her coupons, and I cut out what I can use. Our local supermarkets have ways of getting five to twenty cents a gallon off gasoline prices, based on either specific products purchased or the amount of the total bill. Most of the time, I only fill up once a month, so if I get a coupon, I give it to the neighbor so she can get the better price. What coupons I don't use, I cut out anyway, and leave them on the products in the store for the next person to use. No sense in throwing them out, is there?
If an item is on sale, but not on the shelf, I always get a rain check. It's good for 30 days, so I'm bound to have enough money put aside by that time.
Buy the store brand! This is particularly important in pharmacies. Their brands are just fine, and work just as well for much less money. But, if you look carefully, you'll find that a special on a more popular brand is better. Compare the price on different sizes. Speaking of which, do NOT be fooled by the words "Now, 20% more!" They didn't say "free." They just said "more." So, if a 10 oz. package now holds 12 oz., it'll probably have a 20% higher price, too.
Many pharmacies now have free cards for seniors, and even the general public, that offer discounts on everything except prescriptions. Mine, Rite-Aid, offers 10% off any of their products all the time. But, on Tuesdays, you get 10% off any brand. And, on the first Tuesday of the month, you can get 20% off! It doesn't work on sale items, but it does work on items that offer rebates.
These are just a few ideas. I'll be sharing more as I explore Thrifty Fun. I consider it a game. Get the best for the least. I've yet to figure out how people manage to get their groceries free, or even get money back, but if you can tell me how, I'd really like to hear from you!
Polly from Cedar Springs, MI
Do you have a frugal story to share with the ThriftyFun community? Submit your essay here: http://www.thriftyfun.com/post_myfrugallife.ldml