Found these guys on my Cherry Tomato plant. They were really enjoying themselves!
By Mary from Leroy, Il.
Editor's Note: These look like tomato hornworms. They love tomato plants.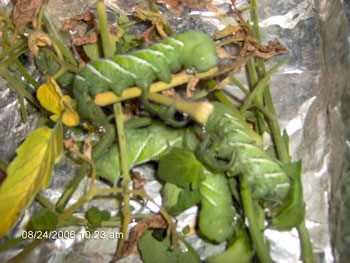 Answers:
Tomato Hornworms
These are indeed tomato hornworms. When they first attack, they are hard to spot, but if you see lots of foliage disappearing, look for these guys. Put on a pair of gloves and pick them off and destroy them. Unless you see one with a lot of little white sacs attached to his back. These are egg cases laid by a kind of wasp, and they will feed on the hornworms. The wasp is a friend to the gardener. But the hornworm can strip a plant from all its leaves in a very short time. And especially if he has friends helping. Luckily, I haven't seen any this year. But one year, I picked off gallons of them...literally. (09/17/2006)
By Harlean
Tomato Hornworms
After getting rid of them, finding no eggs, wrap a 4" double layer of waxed paper around the base of all tomato plants, securing with soil, to prevent their reappearance. I did this and it worked.

Remember also to cut the old dead stalks off with scissors, to save the plant. Mine grew back and better with the pruning. God bless your garden harvest and bring an abundance to share with your neighbors. (09/18/2006)

By Lynda
Tomato Hornworms
Well, I spoke too soon. About 10 days ago, I found several of these guys on my one remaining tomato plant. And they were not only stripping the leaves, they were taking big bites out of the green tomatoes. I picked them off every day for almost a week. Anywhere from 2 to 6 each time, but then I discovered a couple curled leaves that contained little ones encased in kind of a cocoon. I removed the leaves and destroyed them. I found about 7 of these once I learned how to spot them. Must have stopped the cycle as I haven't seen any more. And no more tomatoes with bites. (10/07/2006)
By Harlean
Tomato Hornworms
Tomato horn worms and any other kind of caterpillar will be killed off by using BT-Bacillus thuringiensis, which is a bacteria that targets only caterpillars. You dust this on your plants every seven days- about the average time from egg to caterpillar. It is harmless to humans and animals. I've seen it marketed as Dipel Dust but google BT and you will find lots of hits with one that will list the different product names it is marketed under. Kudos about the hornworms with white cocoons, don't kill those. I used BT to stop army worms from eating up my azaleas and bag worms in pecan trees. You can use BT on any vegetable plant. (10/22/2007)

By Viki