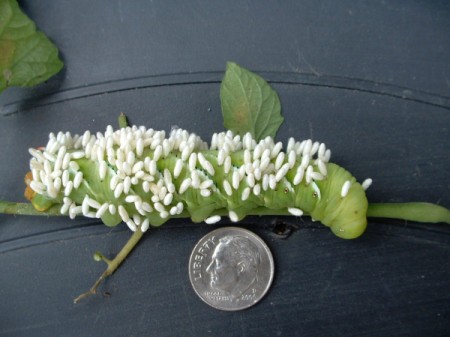 Photo Description
I found this hornworm on my tomatoes. It was found earlier by the braconid wasp. The wasp laid its eggs inside the moth. As you can see in the picture, the egg larvae have emerged to the worm's surface where they have spun little cocoons around themselves and attached them to the worms outer surface.
There is both a Tomato Hornworm and a Tobacco Hornworm. I'm not sure which is pictured. Both will feed on the tomato plant. The mature worms have distinct markings, making it easy to determine which horn worm is being observed.
At the stage of development of the pictured worm, these markings are less distinct and what with these markings being obscured by wasp cocoons, it is difficult to determine which worm I captured with my camera. With it's display of tiny red dots, I'm guessing it is a Tobacco Hornworm. Perhaps a more knowledgeable ThriftyFun member could share their thoughts.
Whichever, little fella, happy munching. I'm sure you'll be glad when all those cocooned larvae mature into adult wasps and fly away.
Photo Location
North Carolina
Editor's Note: This post was updated after publication with corrected information. The author misidentified the larvae, which might make the feedback below confusing.
---