There was a huge caterpillar eating a green tomato on one of my plants. It was as big as a man's finger; colored the same as the tomato vine; it had cream colored lines running downwards on its sides. It had about 8 black claw-like feet and, had a spike-like thorn on its tail. Any idea what kind of bug it was? How do you rid insects from tomato plants that won't be harmful to humans?
Hardiness Zone: 6b
By Doody from Dayton, OH
Add your voice! Click below to answer. ThriftyFun is powered by your wisdom!
July 17, 2010
0

found this helpful
Best Answer
Did it look like the one in our photo? If so, they are Horn Worms. We had them this spring. They can strip a tomato plant overnight to stems only. Pesticide free way to be rid of them is to pluck them off, what you do with them after that is up to you. If left unchecked, they eat to get their fill and then cocoon up for turning into a moth. Then fly away. Do be aware, before they leave, they lay eggs in the soil below the ravaged plant. Later the eggs hatch out and the next generation will eat through your tomatoes the next season. What's on the plant and what's in the soil are both problems. Hope you get lots of suggestions on how to eradicate them. I will post a photo of the moth in a moment.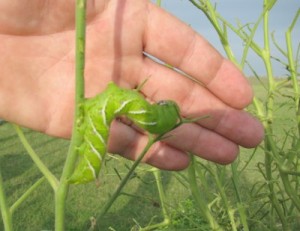 July 17, 2010
0

found this helpful
Best Answer
Horn Worms turn into Five Spotted Hawkmoths. Here is a photo of a Hawkmoth below our tomatoes last spring. We innocently thought, "What a pretty moth." Because we didn't know better than to ignore the visitation last spring, we had an army of Horn Worms hatch out to torment our garden this spring.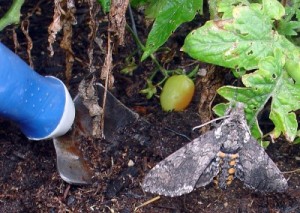 July 16, 2010
0

found this helpful
It is a tomato hornworm. They eat the leaves and tomatoes and will ruin your plants. Pick off the worms and destroy them.
I say them because they usually aren't alone. Check your plants often for these pests. I never sprayed or used chemicals, just remove the caterpillars.
July 16, 2010
0

found this helpful
We call them tomato cows here but they are hornworms. I have to cut the branch sometimes they are on cause they won't let go. I throw them to my chickens they love them. Check your plants often they can destroy a tomato plant in one day (I had it happen).
July 16, 2010
0

found this helpful
Yes, it is a tomato hornworm. However, please bear in mind that they are not exclusive to tomato plants. I have problems with them too, and I have also found them on my honeysuckle plants and on the raywood ash tree in my front yard.
Watch on the ground for their droppings. They are a dead give-away to their locations. They usually don't like to be on the same branch as another hornworm, and they do their damage at night. Pick very first thing in the morning - the earlier the better. I've even gone out with a flashlight before dawn. They'll hide once they sense the sun is coming out.
July 17, 2010
0

found this helpful
The best preventative I have ever found for the evil tomato hornworm is marigolds. I used to get the nasty worms all the time, but then I read that they are confused or repelled by the scent of marigolds. Since then I have planted several marigold plants around each of my tomato plants and have never had another hormworm. It makes a pretty companion planting, I don't lose any plants and I don't have to touch the icky things.
Add your voice! Click below to answer. ThriftyFun is powered by your wisdom!
I have found this little green caterpillar in my bed, it's green and small, like 3/4 of an inch. It has little black feet or legs, it also has a point on its back. It has little tiny white specs on its back and white lines on its sides. Please tell me what it is! It has a little black mouth, too. Is it poisonous? I have cats, so I'm worried.

By Michelle from Billings, MT

Answers:
What is This Caterpillar?
It sounds like a tomato caterpillar. It eats your tomatoes and ruins your garden. You need to get rid of any ugly looking caterpillars in your garden. Some are even poisonous if you touch them. I usually smash them with something, but you can also use some pesticides on them.
(06/11/2010)
By lara
Ridding them without pesticides
I agree, I first thought of a tomato caterpillar. When I had a really large garden, I made a discovery. These caterpillars tend to like to come out when the sun starts setting. That's a good time to put gloves on and just go grab them up. I try to keep things pesticide free as there are so many creatures in the garden that are beneficial (ladybugs, worms, lizards, etc) that I don't want to harm. Tomato caterpillars aren't necessarily associated just with veggie gardens, but will eat a LOT of your good plants. (06/12/2010)

By Nathalie