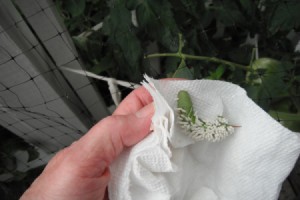 In the spring, we planted one tomato plant in a large container beside our deck. Now it is enormous and has grown above the deck rail. I have babied this plant and in return, we have been enjoying delicious tomatoes, much better than the ones from the garden which have suffered from the hot, dry weather.
While picking tomatoes, I found a green worm eating the plant. I didn't want to touch it so I got a paper towel and pulled it off. The worm is called a tomato hornworm. It turns into a moth. The white things attached to the worm are Parasite Wasp cocoons which are beneficial for killing the hornworm. Yet while the hornworm is dying, he is devouring the leaves of my tomato plant which to me, that's not good.
I put my glasses on and started searching for more worms on the plant. I found out that they don't bite or sting so I just started picking them off. After removing 18, I lost count.
The article I read said to remove the worm and place it in a jar with some leaves and let the parasite wasp do its job. I placed some of them in a container and I'm just waiting to see what happens. I think the worms are dying and I don't know what will happen to the parasite wasp cocoons. I wonder if my neighbor's chickens would love to have these worms.