Getting Rid of Wasps
Solutions
Share on ThriftyFunThis guide contains the following solutions. Have something to add? Please share your solution!
When leaving the house, take the time to look up and check the doorway of the back door, front door and side doors. I did, and was horrified to discover a wasp's nest.
By Holly from Dallas, TX
December 30, 2018
0

found this helpful
Hairspray will immobilize the insect by coating its wings, so you can safely kill it. This is a guide about using hairspray to kill insects.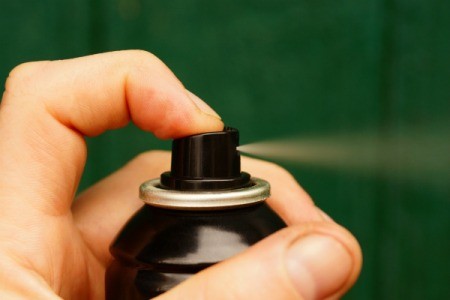 August 11, 2011
0

found this helpful
A solitary wasp or two is not really a problem. In fact wasps can actually be beneficial, as they are predators on other insects. But if you see lots of wasps you have a problem.
You can make or buy wasp traps, these can be very effective in eliminating your wasp problems. If this does not work well, you may have to locate and kill the nest.
Look for wasp activity in your yard and around your house. Wasps can build paper nests under the eaves of your home, hanging in trees, and inside of trees with visible holes. Some wasps, such as yellowjackets, live in nests underground.
Once you locate the nest you have two options. You can, of course, call an exterminator. They will come prepared with the appropriate pesticide and protective clothing to safely rid you home or yard of the nest.
The other option is to get rid of them yourself. You will need to kill the nest. This is best done at night when most of the wasps are inside. Be sure to wear protective clothing. For the do it yourselfer, that would mean multiple layers of clothing and gloves at the very least. A net type face covering is also recommended. Protective eyewear is also a good addition.
There are various types of wasp sprays available in the garden department of home improvement stores or your local garden center may also carry them. You will need a projectile type spray for the nests that are out of reach. Be sure to saturate the nest, for optimal results. If the nest is underground you will need a different type of spray. You may have to repeat the application several times to ensure that all of the wasps are dead. This can be done over a couple of days to include any individuals that might have not returned to the nest in the evening.
Note: Even using a good pesticide in this killing process will not guarantee that you will not be stung.
Once you see no more wasp activity, you should be able to remove the nest safely. You may wish to wear your protective clothing and gloves just to be safe.
Once you have killed the wasps you might want to take preventative action in the future to discourage their return. Put traps out early in the summer. In the fall you might add a bit of hot dog, as the wasps are seeking protein later in the year. Maintenance your traps for cobwebs around the entry holes as the wasps will ignore the trap if there are webs. Paper nests in the eaves can be knocked down before they become too large. Unfortunately, the underground nests of yellowjackets are not as readily noticeable in the early stages.
Questions
Ask a QuestionHere are the questions asked by community members. Read on to see the answers provided by the ThriftyFun community or ask a new question.
March 16, 2013
0

found this helpful
How the heck did wasps get into my room? The window to be exact, my room window, doesn't have any holes or none that I can see and i never leave my room door open. I don't want to kill it because if you kill it, it will leave a chemical behind telling the others that it is in danger and they will come instantly.
By Victoria .T from San Martin, CA
Answers
March 17, 2013
0

found this helpful
Quick - go to home depot, Lowes or Menards and ask for help. Or, maybe they are building a nest inside the walls and you need an exterminator. Act quickly.
March 18, 2013
0

found this helpful
Grab the hair spray and spray it it cannot send a message at this point it will stiffen and drop to the floor and cannot bite you that will give you time to track thier entrance.I am allergic to thier venom and this works great
April 16, 2017
0

found this helpful
Carpenter bees do not like citrus, you can spray the areas they
Are working on with citrus spray from the dollar store, also
Wd40 works to spray inside the exciting holes, they back out
And die on the spot. Stuff with steel wood and spray with
Enamel varnish. It is better to work at night to prevent getting
Stung. Also take hairspray to spray any insect in the air in
The daytime. They drop , then you step on them. This is good
For any inside bug, flying or not. Also the ants die outside, I also
Have used spray oven cleaner on outside ants. A yellow jacket
Nest in the ground can be killed at night by using boiling water
To pour on the area.
Answer

this Question

...
Wasps are making hives on everything in my yard. How can I get rid of them? They're really a nuisance!
Hardiness Zone: 6a
By Sheri Carlisle from Provo, UT
Answers
August 8, 2010
0

found this helpful
Locate their hives, and then wait till after dark when the wasps are all inside the hives, and then spray each hive thoroughly with a good wasp and hornet spray. If you use a good wasp and hornet spray, they will all start to die immediately and you don't have to worry about them flying out of the hives and attacking you. You might want to buy more than one can of spray, depending on how many hives you have.
August 12, 2010
0

found this helpful
Caution:
For daytime and individual hornets, I learned that when you squish wasps/hornets, they release a pheromone (scent) that calls for others to come to their defense. Yikes. Put out a deep jar with honey in the bottom. The leftover wasps/hornets will catch in the bottom.
Spraying insecticide at night in their nests is a good idea.
May 27, 2015
0

found this helpful
I just "terminated" a 6 inch diameter nest under construction beneath my eave. I waited till midnight then using my expanding hose with a spray bottle nozzle device connected to it, filled it with clorox and hit the nest with a heavy jet of water & bleach! In a few minutes the paper ball was blown away but the comb core took a bit more effort to break it's "anchor" off the ceiling before it fell to my deluge. No counter attackers, no noticeable debris, the whole thing was over in about 15 minutes! Back to bed I went (but not them!)
Answer

this Question

...
July 23, 2005
0

found this helpful
A nest of wasps or hornets has taken up residence under the wooden terracing/steps in my yard. I've sprayed the area as much as I could with commercial products, at night when they are in the nest, but since it is under the wood I can't get them all. Any suggestions?

Linda
Answers
July 26, 2005
0

found this helpful
(sent in by email)
About the wasps, what I use is dawn dish soap with water in a sprayer. It
works great. I just killed 15 the other day.
Joyce
By Jim - Connecticut (Guest Post)
September 1, 2005
0

found this helpful
The Dawn detergent sounds like a great idea but could someone be a little more forthcoming? What are the mixing ratios? How does one apply it so that it is sure to be lethal to the wasps (bees?)? Thank you.
Answer

this Question

...
June 24, 2012
0

found this helpful
How do I deter wasps from drinking pool water?
By Rick
Answers
June 25, 2012
0

found this helpful
I don't know how you can specificially keep wasps away from a pool, but there are little plastic "wasp catchers" that you can hang around your patio or close by the pool to attract and catch wasps. They have holes in them and you add fruit or juice to the bottom of the container. They go in the holes and aren't smart enough :) to figure out how to get back out. They usually drown in the juice.
Answer

this Question

...
June 17, 2012
0

found this helpful
How do I kill the wasps that are ruining my hostas, year after year? The only relief I have found is Sevin dust, which then takes away from their looks.
By JC
Answer

this Question

...
April 29, 2012
0

found this helpful
Is there any way to repel wasps and ticks? I live on the east coast and it tis the season.
By Kathleen S
Answer

this Question

...
Related Content