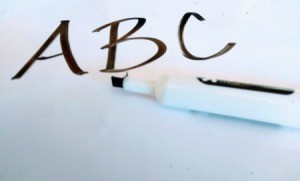 What can I use to remove dry erase marker stains from wood?

Kira from Milwaukee, WI

Answers

January 26, 2007
2

found this helpful
Best Answer
Try the Mr Clean Magic Eraser. That sponge works great. Haven't found anything it won't remove yet.
By tami (Guest Post)
May 28, 2008
1

found this helpful
Best Answer
Wow. I'm glad I found this thread. I just used a magic eraser to get marker off my dining room tabletop after trying vinegar, ammonia cleaner, water, dry erase board cleaner and anything else I could lay my hands on.
The magic eraser took some scrubbing but it's gone.
Lucky baby.
October 27, 2012
0

found this helpful
Best Answer
All you guys are missing it. What you do is this:
1. buy an erasable white board marker that is throw-away, as you'll ruin it here. Buy two to be safe and make sure you have enough to do the job.
2. Write over a small part of the dried markings with the new marker. The new marker 'ink' will dissolve the old.
3. Immediately wipe off the ink with a damp sponge.
4. Wait for the wood to dry.
5. Repeat steps 2 through 4 until it's all gone. If the marker becomes saturated with the old 'ink', use the second one.

June 30, 2016
1

found this helpful
Best Answer
Nail polish remover works on my white board wood.

November 15, 2016
2

found this helpful
Best Answer
I'm only a teen myself and annoying little brothers drew on my wooden do not disturb sign and after screaming and scrubbing with water and soap I don't know how but after I covered the stain with Vaseline ( I used lip Vaseline but that doesn't matter ) left it for a minute then used a pencil eraser to rub it off, I rubbed for five minutes and the stain is completly gone! I Hope This helps
Louise X

April 3, 2017
2

found this helpful
Best Answer
I had accidentally wrote on my wooden dresser with a dry erase marker when I was writing on my board and I tried all kinds of things then I just decided to put hand sanitizer on it and let it sit for a minute then I rubbed it with a pencil eraser and it came right off !.
Answer

this Question