When the worst things occur at the worst times in the worst way, Frugality Rocks!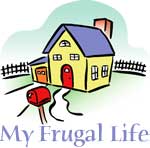 My husband suffered a bad seizure in 2007 when he was told that the family business, which we had banked on to help us finance raising our children and putting them through college, was going to close due to his mother's diagnosis of Alzheimer's and bad economic times. We took a deep breath and dealt with his health issues. He applied for a job that didn't work out and finally applied for disability which he thankfully received.
My two older sons were college graduates (2009 and 2010) and received college scholarships. Thank you, government, for Pell Grants. My children have learned (and we have returned to) our frugal ways.
My two younger children are finishing high school. They never complain about not having things. We share one car at home. My oldest son goes to school where he can walk and our second son took our SUV to school. It has brought us together as a family and shown us the depth of how much we love each other. We never knew what Christmas was really like, until we realized it wasn't about the presents.
It's been a gift to learn to live with less. Frugality Rocks.
By Paula from Hot Springs, AR
Do you have a frugal story to share with the ThriftyFun community? Submit your essay here: http://www.thriftyfun.com/post_myfrugallife.ldml